Thursday, September 27th, 2007
Warning!
If you're a true deli fan, know that the following post may cause you to cringe, gag, and possibly retch in disgust and shame. For this news is worse than a glass of milk with a corned beef sandwich, and yet contains just as much evil. It hit me unexpected the other day, as I was walking down the street in Toronto with a friend. I saw it gleaming at me, backlit by neon, from behind a plate glass window. My heart sank. I wanted to smash the glass and burn the goddamn place down. The devil had arrived, and he was pining for deli's soul.
Yes friends, the dark day has arrived…. Subway is now offering a Montreal Smoked Meat sub.
Ugh. Feh. Yech.
That's right, Subway. One of the companies that has done more to drive the Jewish deli out of business than most others is now trying to steal the deli's thunder. The reprehensible corporate douchebags in the marketing department have decided to appropriate our finest sandwich, crappify it for the sake of productivity, and sell it with chips or a greasy cookie to those who know no better. Bravo Subway, first you took pastrami to new lows in the United States, and now you are attacking the legacy of Schwartz's, Lester's, and the like. I didn't think I could hate you any more after I ate that wretched frozen tuna sub in Israel five years ago, but once again you've proven me wrong. There is no low to which you won't stoop. Next thing we know, that skinny putz Jared will be hawking chopped liver sandwiches on your tasteless multigrain loaves. Bravo. You've earned a special place in my hell.
Ok, you can all see I'm blinded by rage, so let me refer you to cooler heads at The Hour, an alternative Montreal weekly:
It's not because the meat was so substandard (it was, falling somewhere between poorly corned beef and an insole), nor that the rest of the sub's components bore scant resemblance to the traditional substructure of a true smoked meat sandwich (what cruel subterfuge to pass that off as bread!). What irks me is the continual subplot of countless chain restaurants to subvert cultural culinary icons through the substitution of bland, unrepresentative ingredients, often resulting in the subjugation of the gastronomic subculture.
Believe me folks, this isn't just a rant against Subway. It's a fight for the preservation of our traditional foods. One day, you want your children and grandchildren to know that Smoked Meat comes from the trained hands of a counterman in a Montreal deli. But if this keeps up, all he'll know is that it's one more fast food that has been distilled and simplified down to its shittiest essence. I'm not the only one piping up about this. Check out the Chowhound debate that's raging against such an abhorrent violation of the laws of taste.
Rue this day.
* To those of you who don't know, this is what a Montreal Smoked Meat sandwich should always look like
Tuesday, September 25th, 2007
My good friend Sara Wilson over at Los Angeles Magazine just yesterday sent me a gorgeous article on that city's great delicatessens, written by Patric Kuh. As I've written before HERE and HERE, LA is an astounding locale for deli eating, in many respects second to none. Known legends, like Langer's, Canter's, or Nate n' Al are the types of places deli aficionados dream of. But as Kuh's article points out, there are others that are just as good, but less known, like Brent's, Art's, or Factor's.
The article, wonderfully titled "What's Not to Like", is a simple layout of praise and full page portraits of massive sandwiches, pickles, and egg creams. It does omit a few key delicatessens, such as Junior's, but also presents a few I haven't even heard of, like Marv's and Billy's. Still, no list can ever be complete, and upon opening this file, deli fans on either coast can start salivating.
Photographs by JAMES WOJCIK.
CLICK HERE TO DOWNLOAD PATRIC KUH'S ARTICLE ON LA DELIS FROM LOS ANGELES MAGAZINE
"L.A.'s delis are more than purveyors of towering pastrami sandwiches, house-brined pickles, and foaming egg creams.
They are social temples where all are welcome to nosh"
"Cutting lox from the center of the ? llet—that's nothing. For one person, the pickles should all be sour. For another, the brisket must
be lean. For a third, it's imperative that the bagel chips arrive before the soup. "When you bring the sandwich, only bring half of it," says a lady at Junior's in Westwood. When you bring the sandwich, only bring half of it is not a Zen riddle. It's a request that anyone in a deli can understand. The other half is brought wrapped in tinfoil so that it doesn't lose its warmth."
Here's Kuh's listing of the top 10, for those of you obsessed with ranking:
1. Brent's
2. Langer's
3. Nate n' Al
4. Art's
5. Pico Kosher
6. Marv's
7. Canter's
8. Factor's
9. Billy's
10. Label's Table
What I'd give for a plane ticket to LA and an endless hunger for two weeks!
Monday, September 24th, 2007
Great news to report today. The Pastrami King deli will open in Barrie, Ontario today at 11 AM.
Headed up by Marty Marks, a caterer in the far north and BBQ master with a history in the deli business, it is the first new delicatessen in Ontario since 2000. It is also one of the first delis in the province to be situated out of Toronto, as more and more city dwellers retire north and want their pastrami.
Marks is promising big things up at his location, conveniently placed just off exit 90 A, right by Dunlop St. W, which is conveniently directly en route to my own cottage. Aside from house smoked pastrami, homemade cabbage rolls, and rice puddings (among other treats), The Pastrami King will offer cottage dwellers the chance to purchase a specially designed cooler bag, and make their deli orders ahead of time for the weekend. That way, you can head up north, swing by the King, pick up your deli, and be ready to sit on the dock, or by the ski hill, and nosh. Sounds like a winner to me.
Here's a tidbit from their soon to be built website:
We'll be specializing in Hot Smoked Pastrami Sandwiches on Rye. ( We make our own pastrami daily with a generous crusting of spices and peppercorns ). We'll also be serving up traditional Corned Beef, Roast Brisket of Beef & Authentic Montreal Smoked Meat sandwiches along with sliced meats by the pound for take out, traditional appetizers, side dishes, homemade salads and comfort food desserts.
I plan to visit this very weekend, as I head up to my cottage, and I suggest those of you who are around Toronto do so as well. As old delis fade, new delis become that much more important. Also, note that Pastrami King will not be kosher by any means. In fact, Marks runs a hog roasting school nearby…so if you love your treyf, this is the place.
Check out the Pastrami King and send Marty your heartfelt congratulations.
The Pastrami King
# 4 Cedar Pointe Drive in Barrie, Ontario
877-724-4488
Friday, September 21st, 2007
As night encroaches so too does Yom Kippur, the holiest of Jewish religious days in the annual standing, sitting, reading, and singing that is religion. It is a soul cleansing day of atonement and forgiveness, when one is forgived of past sins and transgressions. In short, we get a clean slate, and we do this by depriving ourselves of that which we love most: food. So tomorrow, from sundown tonight until sundown manana, the Jewish delicatessens of the world will serve not a slice of rye or a crumb of meat. Egg creams will go unmade and matzo balls will rest idly by in refridgerators.
It's been a great year for me here at Save the Deli. This site was just a concept last Yom Kippur, and now it is a growing community of deli lovers. I thank you all and hope that you can forgive any transgressions I've had over the past year, whether they were misspellings or misinformation, or perhaps unflattering words about a favorite deli of yours.
Here's Jerry Lewis singing Kol Nidre. Search as I might for the Neil Diamond version from the 1980′s Jazz Singer, I couldn't find it.
Easy fast. Here's a pic to get your stomach through the day.
Thursday, September 20th, 2007
Just after I posted yesterday about new incarnations of deli in New York, my good friend and trusty photographer Christopher Farber sent me the link to this story from New York Magazine.
Barbecue, the New Deli? Who Knew?

In it, the authors argue that the void created by departing New York delicatessens is going to be filled with BBQ places, swapping cured and brined briskets for ones that are hickory smoked and slathered in sweet sauce.
"The shuttering of 2nd Avenue Deli's landmark location and the unstaunched rumors about Katz's impending demise have given the corned-beef crowd some major heartburn, or at least a twinge of dyspepsia. If it's true, as the deli doomsayers insist, that New York's archetypical cuisine is on the wane, what will fill the high-fat, high-cholesterol void?
If you've been out to eat lately, the answer is obvious. New York is in the midst of an unprecedented and seemingly unstoppable barbecue boom, with three terrific new joints opening over the past year alone. And there are enough striking similarities between the two foodways for us to christen Barbecue the New Deli."
Whoa! Whoa! Whoa!
Back up the truck a bit Bessie, because I'd like to jump off. I'm all for BBQ. In my brief 28 years on this earth I've consumed far more meat from the fire than that from the deli slicer. After deli, there's no more satisfying taste than that of wood grilled Argentinean mollejas, Turkish kebabs, KC ribs, or good old fashioned burgers.
But declaring BBQ the New Deli smacks of catchphrase journalism. I know that New York Magazine is the trendsetting voice of the Big Apple, trying to stay ahead of the curve by espousing provocative ideas, but I find this a bit of a stretch. Yes, there are paralells between deli and BBQ (brisket, brining, pickled veg), but why declare it the New anything? It sounds like some Williamsburg hipster bullshit to me. "Mondays are the new Saturdays" or "Red is the new Black". Deli's not the new anything. It's old, which is why we love it. We cherish the fact that Jewish delicatessen food remains unchanged while others are chasing fleeting foodie fads and taste profiles. BBQ is the same, and I have no problem with the two existing happily side by side. BBQ, like deli, is a traditional slow food that draws devotees of a similar characteristic. They don't replace one another…they compliment.
So please, spare me the Anna Wintour/ E! Entertainment titles of who is hot, what is new, who is in, and when they're out. As long as delis in New York are serving up pastrami, knishes, kasha, and tongue, ain't nothing going to stand in its place.
Wednesday, September 19th, 2007
A great article appeared today in the New York Post about restaurants spinning classic deli fare in delicious new ways. It's written by a friend named Kiri Tannenbaum, who is a food writer and scholar, and also a serious deli researcher who is working on a project similar to mine.
WELCOME TO…NEW DELI
NEW JEWISH CUISINE IS NOT YOUR MOMMY'S PASTRAMI
Skip ahead a century, add sophisticated palates, a taste for nostalgia and superstar chefs, and you'll discover modern appropriations in the most unlikely of places.
WD-50 chef Wylie Dufrense, known for his progressive cuisine, reinvents beef tongue and applies traditional brining methods to his corned duck breast cooked sous-vide, served with a side of crispy thin rye, purple mustard and horseradish cream.
Executive chef Patricia Yeo cures a hankering for Yonah Shimmel's knishes with her dressed-up variation of mashed Yukon golds and crème fraiche, fried in a spring-roll wrapper, finished with a dollop of American paddlefish caviar which landed on Sapa's menu when Yeo headed the kitchen. As the chef diaspora continues, Yeo's mini knishes followed her to the Monkey Bar.

Helen Ng of Amazing 66 and Pastrami Fried Rice
In the article, Tannenbaum mentions, among other places, Amazing 66, a new Chinese restaurant I discovered last November, shortly after they opened on Mott (#66), just south of Canal St. It's owner, a delightfully vibrant and hillarious woman named Helen Ng is a bold risk taker. The result: the ultimate Jewish dream. Amazing 66 features dishes like corned beef and Chinese greens and pastrami fried rice (made with pastrami created by the Chinese chef). Finally, Jews have somewhere to go where all their culinary cravings can be fulfilled.

Corned Beef braised with Chinese greens
Another deli fusion I encountered in New York takes a prominent place on the menu at the swank L'Atelier de Joel Robuchon, the sleek entry into the Big Apple by the famous French chef. On his menu, at the Four Seasons Hotel, Robuchon featured a dish called "New York Pastrami" (no longer available), which was in fact cold, lean corned beef, mixed along with Alsacian potato salad and shaved curls of foie gras. It was delicate, sensual, and stupendous, and undoubtedly the finest interpretation of deli I'd ever seen. Supposedly Robuchon got the idea from a Jewish friend of his in Paris, and incorporated foods found traditionally in Alsacian-Jewish cooking.

L'Atelier de Joel Robuchon chef Yosuke Suga with the New York Pastrami dish (foie gras and Alsacian potato salad and cold corned beef)
For deli fans this doesn't change too much. It's unlikely Ben's or The Bagel will be adding foie gras or Chinese broccoli to their menus anytime soon. But it shows that deli foods, long dismissed as a basic and crude slice of culinary life, are garnering serious respect in some of the finest kitchens of the land. If Joel Robuchon is a deli fan, perhaps there's something in the mustard that makes for great cooks.
*also, it was noted to me by Kiri that the editors f**ked up some facts. It is Barney Greengrass who is celebrating 100 years and Katz's with 120
Tuesday, September 18th, 2007
As I'm writing my chapter on Los Angeles' delicatessen scene, one of you loyal readers sent me a great article, which I have actually been looking for for some time now. In 2002, the great LA Weekly food writer Jonathan Gold gathered the creme de la creme of LA deli men (and woman) for a panel discussion on LA's deli scene. In the panel are Marvin Saul of Junior's, Art Ginsburg of Art's, Terri Bloomgarden of Canter's, and the late great Al Langer of Langer's. Less of an article and more of a slice of rapid fire conversation, Gold's snapshot of this fleeting moment in deli history has to be up there with the classic deli articles of all time.
"ART GINSBURG: Al, I want to thank you for the hot bread. 'Cause what you didn't tell them is how to get it hot.
SAUL: Trade secrets, trade secrets, trade secrets . . .!
GINSBURG: What you gotta do is take a loaf of bread, put it under the faucet with a little water on both sides of the things, and then put it in the oven for about 15 minutes. So it gets crispy on the outside and cooked on the inside. And then you slice it.
LANGER: Ooh. So that's the way it works?
SAUL: This is the carrots getting up and slapping the farmer in the face, right?
GINSBURG: I just wanted to tell you, because I'm a little younger than you."
CLICK HERE TO READ THE REST OF THE ARTICLE ON THE LA WEEKLY SITE
Wednesday, September 12th, 2007
It is almost upon us dear friends, the most wonderful, brisket filled time of the year, when Jewish households all over the world put aside the great distraction of multicultural foods around them and head back to the kitchen for a bissel of their roots. The high holy days may be rooted in Torah and Talmud, but for many, it is punctuated by an orgiastic exercise in fressing that is unparalelled. Plates will be piled, pants will be stretched, gas will be passed.
More chopped liver?
As always, the great New York Times is weighing in on the high holy day season with a pair of great articles out in today's dining section.
In Extra Crunch for the Kugel author Melissa Clark discusses the joys of a good hard kugel, and her efforts to make some.
I mixed everything together and filled my muffin tins. There was still a lot of kugel mix left, so I buttered a jellyroll pan (as opposed to a deeper casserole dish) and filled that, too, figuring that the greater amount of exposed surface area would yield a higher crisp-to-soft ratio, mimicking the muffin tins. Then I baked everything at a slightly higher temperature than usual so that the top would get extra crisp before the bottom had a chance to dry out.
The kugels emerged from the oven gorgeously golden, with the tips of the noodles singed to a chocolate hue.

Interesting and arguably delish, though I'm more of a sweet, dense kugel man. The best three I've had in my deli journeys are the following:
1. Blueberry Kugel at Max and Benny's, in Northbrook, IL.
I love blueberries, and while this kugel tastes of summer and bursts with sweet bites, it's the color that really gets me. Enough blue dots to make any Smurf happy.
2. Ultra custardy sweet kugel at Jimmy and Drew's 28th St. Deli in Boulder, CO
Imagine something that tastes like a mixture between rice pudding, creme caramel, creme brule and kugel, and you have some inkling at the sugary, eggy bomb that is this wonder of kugelry.
3. Kugel of air at Kenny and Ziggy's, Houston, TX
If anyone doubts the culinary prowess of Mr. Ziggy Gruber (getting married real soon), they have never tasted the wonder of his airy kugel. He must whip the eggs with the wings of angels, because this kugel has the consistency of a delicate soufle. Unbelievable.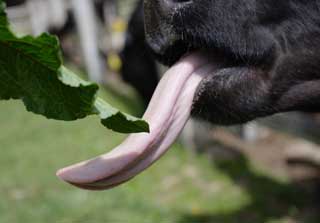 In the same dining section appears an excellent article by America's Jewish food guru, the great Joan Nathan, about tongue.
A Delicacy That Is Better When It's Not Served Whole (oh New York Times and your witty headlines!) is an excellent mixture of cookery and journalism into one of the most misunderstood, maligned, and ultimately delicious cuts of deli meat. In her article, Mrs. Nathan talks to some of our favorite characters in the deli world, including Gary Canter, Michel Kalifa, and Sy Ginsberg.
Tongue is traditionally preserved by pickling exactly the way corned beef is. After sitting in a brine of salt, garlic, pepper, spices, sodium nitrite and sodium erythorbate for several days, it is cooked for a long time in water to tenderize the muscles. Then the protective skin covering the now tender tongue is peeled off.
Today, with America's burgeoning immigrant population, the market for tongue is changing. "When I first started in this business in the late '70s the slaughterhouse operators in rural areas would call me and ask me to pick up cheaper cuts like tongue, tails and heart for nothing," said Sy Ginsberg of United Meat & Deli in Detroit. "Now they are a delicacy, and tongue costs more than brisket because the Mexicans and the Asians use so many of them."
The first time I had tongue was by accident. My father had ordered a tongue sandwich and I corned beef for takeout, and as we pulled the car away and wolfed down our sandwiches, my dad turned to me after I was through the first half and said "I think you just ate my tongue." Yes, looking at a whole tongue in the deli case can be disturbing, and cold sliced tongue isn't my deli meat of choice, but you aren't a deli fan until you have experienced the salty velvet kiss of a hot tongue sandwich. It's like french kissing a cow with mustard.
Not every deli carries tongue, and it can be very expensive. If it's cold, forget it. Hot tongue only in my opinion. My favorite spots for tongue are:
1. Yitz's Delicatessen, Toronto, Canada
-the scene of my first tongue lashing and most subsequent consumption.
2. Gottlieb's Delicatessen, Brooklyn, NY
This is probably the most Jewish Jewish deli in the world. I'm going to write a full profile one day soon, but just know it's Hassidic, Yiddish is spoken and the tongue is killer and glatt kosher.
3. Liebman's Delicatessen, Bronx, NY
I've written about Liebman's before. Their tongue is Empire National, which makes some of the best stuff out there.
4. Ben's Delicatessen, Long Island, Manhattan, Boca Raton
Ben's is the largest deli chain out there, which many might think is a bad thing. But owner Ronnie Dragoon is such a true deli man that he has kept the operation old school in taste. Tongues (and corned beefs) are pickled in-store. Ben's also does a great tongue polonaise, which is tongue in a sweet raisin sauce.
I think that should satisfy you all until the holy days are over. Shana Tova to all my dear deli fans out there. May the next year be as sweet for you as the last one was for me, and we shall all pray for the deli to thrive for hundreds more.
Zay Gezunt!
Friday, September 7th, 2007
With the Jewish High Holy Days approaching deli lovers shouldn't be left scrambling for gifts for loved ones. So let me take this opportunity once again to remind you all that the Save the Deli store is open for your yontif shopping needs. We all know someone who would love some of this sweet swag.
In every home there's a baby waiting for that Save the Deli jumper.
Dad's and Zaidy's go crazy for the I Heart Deli golf shirts.
What Jewish mother or Bubbe wouldn't love her Salami Mommy or Pastrami Mommy apron?
Who doesn't have a slutty cousin just dying for her own Brisket on Board thong (Made in the USA…Hell Yeah!)
www.cafepress.com/savethedeli
All proceeds go toward keeping this site alive and running.
Thursday, September 6th, 2007
One of you great readers let me know about a great poem about saving a deli, which was published in the magazine Jewish Currents this summer. It was written by LA poet Sherman Pearl, and it's titled DELI.
DELI
Sherman Pearl
Open your doors to us, Zucky; tear the plywood
from your plate glass windows, take down the For Sale sign,
sweep the dust of your failure from the entranceway.
Let us spend this Sabbath at the booth where the seats
are dented to fit us, where cracks in the Formica
spell out our names and the menus carry our fingerprints.
Make us wait too long; send a waitress with dyed
disheveled hair and an apron stained with mustard; have her
lean over us tapping a pencil while we contemplate
your bounty, the infinite combinations, while we breathe
the pickle-tart air. Have her push the specials —
dishes stuffed with kasha, spiced with remembrance
and later, when we start gesturing for our orders, call out
from the back in an accent exiled from the Old Country
It's coming already! And while we're eating
stroll over wiping your hands, smiling down on us.
We're hungry, Zucky.
Are you busy in that darkness; can you hear us knocking?

The poem is an ode to the defunct Zucky's Deli, in Santa Monica, a delicatessen that has been closed since 1993, but remains standing, though vacant. Soon, it will be renovated and turned into something else. Zucky's had been an institution for years in the area, and was frequented by Arnold Schwarzenegger each morning for breakfast on the way home from the gym. You can read a little more about it here. Preserve LA has been attempting to save the location, though to little avail.
So what we have is Mr. Pearl's lovely poem, which could really stand in for any great deli that we loved and watched die. Enough to bring tears to my eyes.
If you have similar poems, songs, or haikus about delis, please do send them in or post them in the comments.