It is almost upon us dear friends, the most wonderful, brisket filled time of the year, when Jewish households all over the world put aside the great distraction of multicultural foods around them and head back to the kitchen for a bissel of their roots. The high holy days may be rooted in Torah and Talmud, but for many, it is punctuated by an orgiastic exercise in fressing that is unparalelled. Plates will be piled, pants will be stretched, gas will be passed.
More chopped liver?
As always, the great New York Times is weighing in on the high holy day season with a pair of great articles out in today's dining section.
In Extra Crunch for the Kugel author Melissa Clark discusses the joys of a good hard kugel, and her efforts to make some.
I mixed everything together and filled my muffin tins. There was still a lot of kugel mix left, so I buttered a jellyroll pan (as opposed to a deeper casserole dish) and filled that, too, figuring that the greater amount of exposed surface area would yield a higher crisp-to-soft ratio, mimicking the muffin tins. Then I baked everything at a slightly higher temperature than usual so that the top would get extra crisp before the bottom had a chance to dry out.
The kugels emerged from the oven gorgeously golden, with the tips of the noodles singed to a chocolate hue.

Interesting and arguably delish, though I'm more of a sweet, dense kugel man. The best three I've had in my deli journeys are the following:
1. Blueberry Kugel at Max and Benny's, in Northbrook, IL.
I love blueberries, and while this kugel tastes of summer and bursts with sweet bites, it's the color that really gets me. Enough blue dots to make any Smurf happy.
2. Ultra custardy sweet kugel at Jimmy and Drew's 28th St. Deli in Boulder, CO
Imagine something that tastes like a mixture between rice pudding, creme caramel, creme brule and kugel, and you have some inkling at the sugary, eggy bomb that is this wonder of kugelry.
3. Kugel of air at Kenny and Ziggy's, Houston, TX
If anyone doubts the culinary prowess of Mr. Ziggy Gruber (getting married real soon), they have never tasted the wonder of his airy kugel. He must whip the eggs with the wings of angels, because this kugel has the consistency of a delicate soufle. Unbelievable.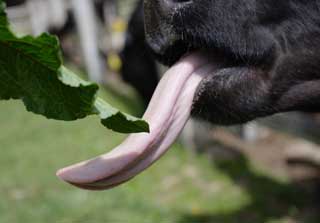 In the same dining section appears an excellent article by America's Jewish food guru, the great Joan Nathan, about tongue.
A Delicacy That Is Better When It's Not Served Whole (oh New York Times and your witty headlines!) is an excellent mixture of cookery and journalism into one of the most misunderstood, maligned, and ultimately delicious cuts of deli meat. In her article, Mrs. Nathan talks to some of our favorite characters in the deli world, including Gary Canter, Michel Kalifa, and Sy Ginsberg.
Tongue is traditionally preserved by pickling exactly the way corned beef is. After sitting in a brine of salt, garlic, pepper, spices, sodium nitrite and sodium erythorbate for several days, it is cooked for a long time in water to tenderize the muscles. Then the protective skin covering the now tender tongue is peeled off.
Today, with America's burgeoning immigrant population, the market for tongue is changing. "When I first started in this business in the late '70s the slaughterhouse operators in rural areas would call me and ask me to pick up cheaper cuts like tongue, tails and heart for nothing," said Sy Ginsberg of United Meat & Deli in Detroit. "Now they are a delicacy, and tongue costs more than brisket because the Mexicans and the Asians use so many of them."
The first time I had tongue was by accident. My father had ordered a tongue sandwich and I corned beef for takeout, and as we pulled the car away and wolfed down our sandwiches, my dad turned to me after I was through the first half and said "I think you just ate my tongue." Yes, looking at a whole tongue in the deli case can be disturbing, and cold sliced tongue isn't my deli meat of choice, but you aren't a deli fan until you have experienced the salty velvet kiss of a hot tongue sandwich. It's like french kissing a cow with mustard.
Not every deli carries tongue, and it can be very expensive. If it's cold, forget it. Hot tongue only in my opinion. My favorite spots for tongue are:
1. Yitz's Delicatessen, Toronto, Canada
-the scene of my first tongue lashing and most subsequent consumption.
2. Gottlieb's Delicatessen, Brooklyn, NY
This is probably the most Jewish Jewish deli in the world. I'm going to write a full profile one day soon, but just know it's Hassidic, Yiddish is spoken and the tongue is killer and glatt kosher.
3. Liebman's Delicatessen, Bronx, NY
I've written about Liebman's before. Their tongue is Empire National, which makes some of the best stuff out there.
4. Ben's Delicatessen, Long Island, Manhattan, Boca Raton
Ben's is the largest deli chain out there, which many might think is a bad thing. But owner Ronnie Dragoon is such a true deli man that he has kept the operation old school in taste. Tongues (and corned beefs) are pickled in-store. Ben's also does a great tongue polonaise, which is tongue in a sweet raisin sauce.
I think that should satisfy you all until the holy days are over. Shana Tova to all my dear deli fans out there. May the next year be as sweet for you as the last one was for me, and we shall all pray for the deli to thrive for hundreds more.
Zay Gezunt!