Smoked Meat at Nate's in Ottawa.

To those of us deli lovers in Canada, the great lopsided debate of Montreal vs. Toronto, of smoked meat vs. corned beef, is an amusing, and infuriating exercise in local pride. And while most readily admit that Montreal is both numerically and traditionally superior in its deli offerings, the passion shows a love for deli in both of Canada's major cities. This is important. Unlike the United States to the south, Canada is not a deli rich nation. Yes, there's a great history in Montreal, and a good concentration in Toronto, but there are but a handful of delis left in Winnipeg, and one or two on the edge in Calgary and Vancouver. This wasn't always the case. Back in the day, there were delis in Saskatchewan and Edmonton, in Maritime coal towns and northern cities in Ontario. But time has drawn Canada's Jewish youth to its major centers, and as the communities have shrunk, their delis have disappeared. This is unfortunately the case with Winnipeg, which was once a deli haven, and now only Oscar's is left in the city. These places need their delis saved in the most dire fashion possible.

So it brings me great sadness to report that Canada's capital city will soon be deprived of its landmark deli. In less than two years, the legendary Nate's will be shut down by its owner, Dave Smith. According to a story in the Ottawa Citizen, published last July (where are my Ottawa eyes and ears?), the building has been sold and will be shut down in the coming years.

Dave Smith. Photo courtesy of canada.com

Nate's has been around since 1960, when Dave Smith opened his smoked meat palace in the city, along with his sister. Over the years, Smith has dedicated increasing amounts of his time to charity, including personally organizing relief efforts for stricken countries around the world, as well as efforts closer to home. He's raised hundreds of millions of dollars over the years, often with money from his own pocket.
After 47 years in the deli business, Mr. Smith, 74, has decided to sell the building that houses Nate's Deli and The Place Next Door to developers.
He plans to lease the land for the next three years — just so Nate's can make it to its 50th anniversary[...]Which is the main reason Mr. Smith needs more spare time. The beloved philanthropist is so busy with charities in Canada and around the world, he just can't say no. "It'll free me up," he said of the decision to sell the building. "When I ship a container (to Africa), I'd really like to be there to make sure it goes to the right place."
Now, I've never eaten at Nate's, but the few Ottawa natives I'm close with all admit that's it's a welcome, local joint. So to hear that Ottawa's only original deli is closing, is well, another bit of heartbreak in this deli soul of mine. This is the place where John Lennon and Yoko Ono ordered a smoked fish platter, when they passed through the city in 1969. This is the deli that fed Prime Minister's and ambassador's, where Canada's leaders got a taste of Jewish food. In this country, where deli holds on by a thread, it is tragic to see it fade fully from our capital city. No, Nate's was never the best, or most famous deli in Canada, but it was a loved and symbolic one nonetheless. In the next three years I intend to make it there, and I hope you do too. Perhaps we can appeal to Mr. Smith's generous heart that what he could save this time is his own legacy and Ottawa's deli future.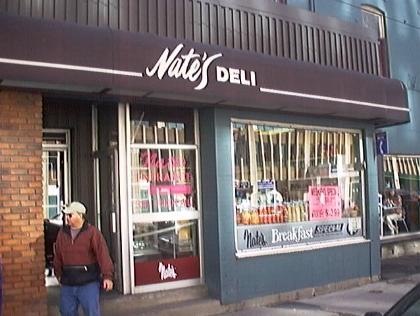 Nate's Deli
316 Rideau St
Ottawa, ON
(613) 789-9191

View Larger Map