Monday, September 29th, 2008
Well folks, a Jewish new year is almost upon us, and as I prepare to drown in a glorious sea of brisket, meatballs, honey cake, apples, honey, gefilte fish, gehakte liver, rugelach, and a decent helping of family fed grief, change is about. As of Thursday, Save the Deli will be relocating to New York City! (more…)
Wednesday, September 24th, 2008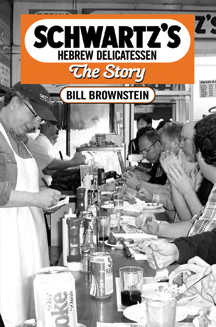 Plus
I shit you not! (more…)
Friday, September 19th, 2008
Yes, that's exactly what that is. It's a herring martini.
Last week, I found myself at the 2nd Ave Deli, just before closing. I'd flown into New York that day, applied for a social security number, run around various boroughs looking at apartments, and at 11pm, starved and exhausted, I wandered into the deli. I hadn't been in since opening day, but Jeremy Lebewohl was there, eager for me to try his new creation. (more…)
Wednesday, September 17th, 2008
Sorry I've been woefully absent as of late. Last week I found myself hunting for new digs in New York, and am proud to say that Save the Deli HQ will soon be moving to Brooklyn, the historic home of Jewish delicatessen in America (current recommendations welcome). And while I have a juicy tidbit from the 2nd Ave Deli in the wings, I must write about my Labor Day trip to the Cleve. (more…)
Friday, September 5th, 2008
I was going to write about my trip to Cleveland today, but once again the death of a deli has put the deli saving aside for a moment. Steve from Arizona has just sent me word that Katz's of Phoenix (no relation to Katz's in New York, Austin, or elsewhere) has closed.
(more…)
Thursday, September 4th, 2008
The great Monteal Jewish guru Leslie Lutsky has again pointed out a fascinating article from the annals of the Jewish press. This one comes from the latest edition of the Jewish Forward, in a beautiful ode to the new 2nd Ave Deli, written by Marjorie Ingall aka the East Village Mamale.
You can link to the article here, but I really want to highlight the concluding paragraph:
A couple of years ago, New York magazine lamented the death of Jewish food in New York City. Most of the appetizing stores, kosher delis, egg-cream vendors, and Roumanian schmaltz-parlors are gone. The magazine noted the ascendance of "Bar-B-Jews" — tribe members who run palaces of pulled pork: Men like Danny Meyer (Blue Smoke), Adam Perry Lang (Daisy Mae), Andrew Fischel (R.U.B.) and Mark Glosserman (Hill Country). But now, the 2nd Avenue Deli is bringing Jewy back. The restaurant is currently being run by 20-something nephews of the original proprietor. Josie's zayde is gone; he never got to meet Maxie. The Lebewohl family, which owns the 2nd Avenue Deli, has suffered its own losses. But the Deli abides, and it is better than ever. When I bit into my corned beef sandwich, tears sprang to my eyes, mightily amusing my lunch partners.
Amen to that.
Tuesday, September 2nd, 2008
Yes friends, summer is over. The beach is over, tanning is over, patio season is over, and barbecues, while fading, are never quite over. In America baseball season is winding down into the race for pennants and trophies, and that means that hot dog season, while nearing the end, is really ramping up.
(more…)