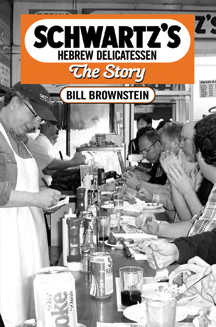 Plus
I shit you not!
I hear from the mouth of Schwartz's Hebrew Delicatessen: The Story writer Bill Brownstein himself that his book on Montreal's most famous delicatessen, the temple of smoked meat, is going to be made into a musical.
Wrote Bill in an email:
It's true. Bowser and Blue with Centaur artistic director Roy Surette are
adapting my book and developing it for the stage. Schwartz's: The Musical is
slated to come to the Centaur stage in about a year.
I can't even imagine what it's going to look like, but whether it's the next CATS or just another theatrical bad idea (like that Bob Dylan musical I saw two years back), I will be there to check it out. Hell, I'll even write a song about it.
Greased Smoked Meat
*to the tune of "Greased Lightning", from "Grease"
Well this sandwich is schmaltzomatic, it's saltomatic, it's fatomatic
Why it's greased smoked meat'!
We'll get some Alberta briskets, and four barrel of spicing, oh yeah
Romanian spicing', whoah Romanian spicing'
Cure it for a week, and soak in the flavor, oh yeah
Spice it deep, I'll see you get it spicy
With a smoker in the back, they'll be hangin' on the rack
You know that ain't stretch when we don't hear a single kvetch with greased smoked meat
Chorus:
Go, greased smoked meat, you're burnin' up my taste buds
Greased smoked meat, go greased smoked meat
Go, greased smoked meat', you're makin' all that mustard smile
Greased smoked meat, go greased smoked meat
You are fly, on double rye for greased smoked meat
We'll get some crispy French fries and full sour pickles, oh yeah
A stub of karnatzel and Cott's black cherry, oh yeah
With squirt of mustard yellow, to make it kinda mellow
You know it ain't no stretch, the garmentos never kvetch – greased smoked meat'
***Applause/Standing Ovations***