I ask all of you, especially the guy who spammed me how Obama was going to destroy Israel, how you cannot be exited to have this man leading America?
Do I say this because of his eloquence or good looks?
Because of his calm manner, or his plans to think things through?
No.
Have I succumbed to Obamania because of the peer pressure?
Am I excited because everything George Bush touches turns to shit, and the less he can touch, the less shitty things may be? (ok, a bit on this one)
But principally I'm psyched to live in the United States of Obama because of this:
That right friends, Obama stopped in for a surprise lunch at Manny's Deli in Chicago, the finest deli in the Windy City, home to the Raskin family dynasty, the corned beef sliced by Gino, and the best damn gefilte fish this side of the passover table.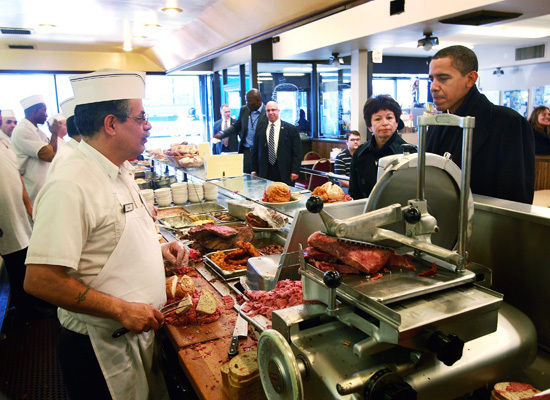 Obama makes surprise visit to Manny's Deli on South Side
THE PRESIDENT-ELECT | Obama stops in – with a throng of Secret Service and press – for Manny's takeout
November 22, 2008
BY ABDON M. PALLASCH Political Reporter
Just because Barack Obama is the president-elect doesn't mean he can't still go to Manny's deli for lunch.
The lunch hot spot south of the Loop came alive with cheers and applause when Obama and his senior advisor Valerie Jarrett entered the legendary deli with a phalanx of Secret Service and dozens of photographers, cameramen and press at 12:30 p.m. Friday.
"Great to see you," Obama, clad in a black wool overcoat, said as he waved to well-wishers. He and Jarrett, in a black trench coat, stood at the counter as seven chefs in white hats stood behind the long cafeteria-style counter awaiting their orders.
Obama, like many other Chicago and national politicians, has stopped to shake hands with the lunch crowd at Manny's during campaigns. He also dines there regularly with his senior advisor David Axelrod and new chief of staff Rahm Emanuel.
"I have to get the corned beef for Rahm," Obama told Jarrett.
Owner Ken Raskin — son of Manny Raskin, who started the deli in 1942 — shook Obama's hand and asked him to sign a photo of Obama and Mayor Daley eating lunch there just after Obama won the Democratic primary for U.S. Senate four years ago.
"I've aged a bit since then," Obama said as he smiled and sign the photo. "Dave Axelrod says hello, Rahm sends his regards. I ordered him his corned beef." Obama posed for photos with Raskin, his son Danny and his wife, Patti.
"Any time you want an order at the White House, I'll deliver it personally," Raskin told him.
Raskin offered Obama a discount but Obama insisted on paying the full price for three corned beef sandwiches, three potato pancakes and two slices of cherry pie to go.
Asked what he ordered, Obama answered, "We got the corned beef."
Asked by Reuters reporter Jeff Mason, "What do you think about the auto industry?" Obama smiled and repeated, "We got the corned beef." Then Obama turned and started circling the cavernous dining room, accepting congratulations from the universally enthusiastic crowd.
Approaching a table of six uniformed recruits from the Police Academy, Obama said, "Good to see you guys. Chicago's finest right there."
New Police Officer Chris Williams told Obama that the president-elect knew Williams' grandfather Chuck Bowen, a former Cook County commissioner and aide to Mayor Daley.
Shaking Williams' hand, Obama said, "Tell him I said hello. I haven't seen him in a long time."
Obama got cheers on the way out and shook hands with a crowd of fans who had assembled outside.
Raskin said he got about 15 minutes' notice the president-elect would be stopping by.
Obama lamented in a recent interview with "60 Minutes" that his new status means he can't just go out for a walk or be as spontaneous as he'd like.
After his 15-minute stop, Obama and Jarrett sped back in the motorcade to his transition office in the Loop to continue assembling his Cabinet.
The New York Times was reporting Friday afternon that Sen. Hillary Clinton would be accepting his offer to be secretary of state, which is reportedly contingent on the vetting of her husband's business interests.
Manny's Coffee Shop and Deli has been at its location at Jefferson and Roosevelt since 1965. It was started nearby in 1942.
He's not just the first black President, he's the first deli President.
CLICK HERE TO SEE PICS OF PRESIDENT ELECT OBAMA AND THE RASKIN FAMILY OF MANNY'S