Wednesday, February 25th, 2009
I've been meaning to post this article for almost two years, but thanks to John Harris for reminding me that I hadn't. It's a great story about localism in the deli scene, and an inspiring portrait of a group of nostalgic noshers who gather at Saul's, in Berkeley.
Noshtalgia" for Pastrami
While Jewish delis are fading nationwide, local delis with the foodie credo—"It's the ingredients, stupid!"—are thriving.
By L. John Harris
I'm a pastrami man. When I go to a Jewish deli, that 100-year-old emporium of Eastern European comfort food, I order a pastrami on rye. Not only do I eat this classic and very fatty sandwich (without guilt), I study it. This qualifies me as a "maven," the Yiddish word for expert, or in my case, "obsessive-compulsive deli guy."
(more…)
Thursday, February 19th, 2009
Got a nice shout out from Heeb Magazine yesterday (well, their blog). For those who don't know, Heeb is the edgy, slick, often snarky youth culture magazine of Jewish America, and it's always a real treat to read.
(more…)
Wednesday, February 18th, 2009
It always gives me great pleasure to announce new delis opening, and Greg Abes has been more than enthusiastic about Stanley's New York Deli over the past few months. With meats from Sy Ginsberg, and a whole lot of chutzpah, the young man from Indianapolis is ready to venture into the big bad world of deli owners. And as a boon to all you Save the Deli faithful, he's letting you in on a free preview lunch next Weds, February 25th, if you happen to be in the area from 11 am to 1pm.
(more…)
Tuesday, February 17th, 2009
I'm generally not one to brag, but let's face it, there's few people who know as much about delis as I do. Whether this is something to brag about is entirely debatable, but I was recently asked to put this to the test.
Last week my friend Dan Rollman invited me to a meeting of the World Record Appreciation Society, a live event put on by the Universal Record Database, which is the coolest world record organization out there. It allows anyone to set a record, so long as it's breakable, quantifiable, and legal. Check out their site www.urdb.org
The challenge was thus: how many delis could I name, without a list, in a minute. Check out the video below to see how I did. (more…)
Monday, February 9th, 2009
Two weeks back I had the great pleasure to meet Nextbook podcast producer Marit Haahr and host Sara Ivry at Ben's Best Kosher Deli in Rego Park, Queens, for a solid interview about this blog, the book, and all thing deli salvation. What follows is their interview, which you can download from their site. It was a ton of fun and I urge you all to check out Nextbook, one of the most compelling new Jewish publications to emerge in recent years.
(more…)
Monday, February 9th, 2009
As I mentioned a few times before, last week marked the sad end to a quartet of Chicago deli meat dynasties, as Sara Lee shut down its kosher meat manufacturing plant.
Among those hardest hit emotionally were the families who had sold their businesses to Sara Lee in the past, only to see their legacy disappear. One such individual was Jason Marck, a radio reporter with WBEZ, Chicago's NPR affiliate. His story, which is well worth listening to, traces his family's history through Best's Kosher, for the show Eight Forty-Eight.
CLICK HERE TO DOWNLOAD AN MP3 OF THE STORY
(more…)
Friday, February 6th, 2009
Friday is definitely mixed bag day, especially with the deluge of mail that's come in. Since savethedeli.com was linked in the New York Times twice in Milton Parker's obituary, I've seen more visitors to this site than any time since it started two years back. Which reminds me, I missed the two year anniversary last week, so let's celebrate it now.
A lot of small things today: (more…)
Thursday, February 5th, 2009
Since announcing the sad news of Milton Parker's death Tuesday night, the story that originated on this site has spread across the web, as tributes to the legendary deli owner have poured in.
Today's obituary in the New York Times is the gem of them all:
Milton Parker, Carnegie Deli Partner, Dies at 90
By DENNIS HEVESI
Milton Parker, who brought long lines and renown to the Carnegie Deli in Manhattan with towering pastrami sandwiches and a voluble partner who kibitzed with common folk and celebrities alike, died in Queens on Friday. He was 90 and lived in Manhattan.

Don Hogan Charles/The New York Times
(more…)
Tuesday, February 3rd, 2009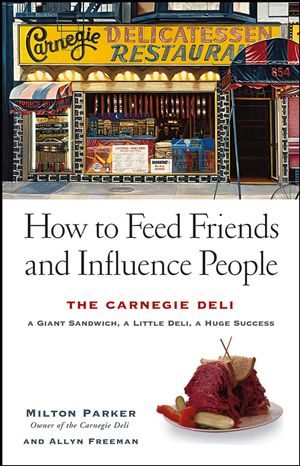 Sad news to report today. Milton Parker, the legendary owner of the Carnegie Delicatessen, passed away last Friday at the well-lived age of 90.
To anyone who knows the New York deli business, Parker's name was legendary. He and partner Leo Steiner purchased the Carnegie Delicatessen in 1976, and transformed it into one of the most successful delis in all of America.
Before Parker, the Carnegie was one of many well known delis near Times Square, but by emulating the massive portions and showbiz-friendliness of the nearby Stage Delicatessen, Parker turned the Carnegie into a phenomenon. The so called "Pastrami War" between the two delis resulted in both having massive lines snaking out the front, drawing locals and tourists alike for towers of meat that no sane person could properly digest. They began curing their pastrami, corned beef, and tongue in-house, and eventually set up an off-site commissary to make their meats and famous cheesecakes, first in the Lower East Side, and later in New Jersey. Parker and Steiner made the Carnegie Delicatessen a destination, an institution, and a New York landmark.
(more…)
Monday, February 2nd, 2009
Something fun for you all today.
A few months back Toronto Life published an article I'd written about Toronto's deli scene. The magazine received many impassioned letters, but none more vocal than that of one David Ouellet, who said things such as "You should have gone to Montreal and done the research yourself because whoever you hired to write the "Here's the Beef" piece is totally off. As an unabashed smoked meat addict, please, next time, get a Montréaler to spread the truth." and "Secondly, any review of smoked meat that doesn't mention the Center Street Deli has no credibility."
Naturally, I responded with my usual tact and barrage of facts, not to mention a bit of chest flaring, because out there in the world of deli lovers, there's no room to back down. Well, I won a shred of David's respect and we got to talking about delis. Turns out that he designs Wonderword puzzles for a living and he asked me if I'd like to write up one based on Save the Deli. The result is below, and I've received word from several of you that it's appeared in newspapers from Montreal to Cleveland. Many thanks to David for his excellent work on this. I'm truly honored. Now if only we could do a crossword puzzle, we'd be in business. (more…)