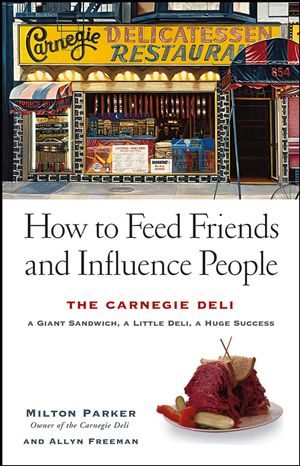 Sad news to report today. Milton Parker, the legendary owner of the Carnegie Delicatessen, passed away last Friday at the well-lived age of 90.
To anyone who knows the New York deli business, Parker's name was legendary. He and partner Leo Steiner purchased the Carnegie Delicatessen in 1976, and transformed it into one of the most successful delis in all of America.
Before Parker, the Carnegie was one of many well known delis near Times Square, but by emulating the massive portions and showbiz-friendliness of the nearby Stage Delicatessen, Parker turned the Carnegie into a phenomenon. The so called "Pastrami War" between the two delis resulted in both having massive lines snaking out the front, drawing locals and tourists alike for towers of meat that no sane person could properly digest. They began curing their pastrami, corned beef, and tongue in-house, and eventually set up an off-site commissary to make their meats and famous cheesecakes, first in the Lower East Side, and later in New Jersey. Parker and Steiner made the Carnegie Delicatessen a destination, an institution, and a New York landmark.

In the history of delicatessens, Milton Parker's carnegie deli caused more heartburn to the Jewish world than anything I've ever heard of. His pastrami sandwich was incredibly much too large for human consumption. I will never forget having dinner one night while doing a fundraiser for Gary Hart's presidential campaign, and Hal Linden, Barney Miller and I were starving and went to the Carnegie. We all made a terrible mistake and each ordered a pastrami sandwich. There was enough food there for 11 people. Milty was an incredible deli man and a superstar and I'm sorry to hear of his demise. — Freddie Roman, comedic legend and Dean of the Friar's Club
Milton Parker was born on Jan 10, 1919 in Brooklyn, the breeding ground of a great generation of deli men. His parents died while he was still young, and he grew up poor. He began working at luncheonettes and diners around Brooklyn and Long Island, learning the restaurant trade. When Levittown, the first cookie cutter suburb, opened in 1937 in Long Island, Parker opened a coffee shop there.
At the Carnegie, Parker always wore a million dollar smile and insisted that the customer was always right. He worked every shift he could, from the cashier to the counterman, to learn the deli trade and become a bona fide deli man. Though he'd spent his life in the restaurant industry, Parker had never operated a deli. "Don't worry Milton," Steiner told him, when the took over the place, "I'll carry you until you learn the deli business." Steiner was the frontman, the visible, shtick happy maven who paled around with show-business faces, while Parker was the back room brains. When Leo Steiner died in 1987, Parker became the face of the deli overnight.
Reflecting on his partner's death in an interview shortly after, Parker was unsentimental, yet funny: "When someone dies, I don't think it's right to keep bringing him up" he said, "I miss Leo, and I'd like to have him sitting here at the deli instead of me. I'd be in Aruba."
Parker continued to build the business after Steiner's death. He opened, and then closed, franchised branches around the country, built the bigger commissary, and increased the size of the sandwiches even higher. He lived for the deli, and his business card read "Milton Parker, CPM (Corned beef and pastrami maven)". Up until his final days of working he refused to use a computer or calculator and relied on a pencil and paper. He was old school in that way, and yet he kept the place up with the times.
He was a good guy who worked his way up just like my father did, and came into his own in the deli. He was able to live out his last many years there, and enjoy the fruits of his labor and pass it on to the next generation. We were competitive, sure, but he was always a mensch. — Steve Auerbach, owner of the Stage Delicatessen
In 2002, at age 84, he decided to retire full time, and handed the reins of the business to his son-in-law Sandy Levine, whose own business card reads MBD (Married Bosses Daughter). "Milton has been in the deli business for years, and he always knows what's best for the deli." Levine said, "I only tried to follow his example." When he wasn't in Florida, Parker was found at the deli, shmoozing with customers, hanging out behind the counter, and just soaking up the world he helped nourish.
One of Parker's lasting legacies was writing the very humorous memoir "How to Feed Friends and Influence People. The Carnegie Deli: A Giant Sandwich, A Little Deli, A Huge Success."
A deli man of Parker's stature comes along very seldom.
In the first pages of that book, Parker laid out his principals of success. Their worth repeating here as a lesson for all the aspiring deli owners out there:
1. Keep it Simple
2. Do one thing better than anyone else
3. Create a family atmosphere among the staff
4. Promote from within
5. Have an open ear to staff and customer comments
6. Make it yourself
7. Own the premises
8. Management is always responsible
9. Do not be greedy
10. Have fun working
It may sound like common sense, and much of it is, but these are among the most important reasons why the Carnegie Deli is thriving, while dozens of other delis that surrounded it when Parker took over are now long gone. Sure, being a deli owner requires a love of the food and a feeling for the shtick, but it's foremost a business, and Parker excelled at keeping that vision on track.
I knew Milton from his years at the Carnegie and his wife because she frequented a Ben's near her Jericho home years ago. I really know Sandy, M.B.D. (married the boss's daughter) much better but I will tell you that as frugal (in a good sense) as he was, he loved the gargantuan sandwiches for which the Carnegie was well known. — Ronnie Dragoon, owner Ben's Kosher Delis
My first meal in New York was at the Carnegie Deli, and it was the first meal on the next three visits back. Though it's harried, and crazy, and packed with tourists, Parker's greatest legacy is how real he kept the place. It doesn't feel contrived or manufactured. It feels like a warm, sweaty embrace from a distant but loving relative. It overflows with comedy and tumult, with grease and fat and salt, with portions so insanely large, they seem criminal, and with an unmistakable sense of New Yorkishness. It's overwhelming and delicious and wonderful, and as long as it remains open, Milton Parker's legacy will shine on.
He is survived by his wife of 62 years, Mildred, his daughter Marian, son Jeffrey, granddaughter Sarri and brother Irving.
"He always said that he wanted to pass with a hot dog in his mouth, so at his funeral I dedicated a real hot dog to him in his honor. " — Marian (Parker) Levine
He will be missed.
Please post your tributes to Milton Parker in the comments below. Shiva is over tomorrow, but donations can be made in his name to The City of Hope charity.