Wednesday, June 24th, 2009
Just got a link sent my way for a great mention by Bob Minzesheimer in USA Today's Book Buzz about the upcoming book.
Noshing on knishes: Weighing in at 160 pounds, 5-foot-9 author David Sax looks too lean to have spent two years eating pastrami, brisket, knishes, blintzes and chopped liver — all in the interest of research. Sax's Save the Deli: In Search of Perfect Pastrami, Crusty Rye and the Heart of Jewish Delicatessen, will be published Oct. 19 by Houghton Mifflin. At lunch last week — at New York's 2nd Avenue Deli — Sax said he tried to limit himself to small portions, "more of a grazing nosh than a gargantuan fress." Sax, 29, a Toronto native who lives in Brooklyn, calls traditional Jewish delis "an endangered species" because of diet, assimilation and economics. But on a cross-country search, he found good eats not only in New York, Miami and Skokie, Ill., but in Salt Lake City as well.
(more…)
Monday, June 22nd, 2009
Many of you think that I'm a one man deli machine, chronicling delis, eating myself obese, writing, publishing, and promoting my upcoming book.
I'm flattered, but the truth is that everything I do is done in concert with Team Save the Deli.
Who is team Save the Deli? Well, it's mostly female, half based in New York, and half in Toronto, with one in Boston, half Jewish, half Gentile, and all talent.
Let's meet them.
(more…)
Monday, June 15th, 2009
My good buddy Mark Lamster sent me this cool pic today.
I think it's done on that iPhone app, where you can finger paint. And I think it's done by artist Jorge Colombo, who did the recent New Yorker cover. It's available for purchase as a print on 20×200.com, a super cool website where you can get great original art for $20.
Also, another little tidbit. I got more great hyped press that came out of BEA. Vick Mickunas of the Dayton Daily News wrote about the Book Expo of America convention this past friday: (more…)
Tuesday, June 9th, 2009
A year ago tomorrow, June 10th, Zane Caplansky opened the doors of his kitchen at the Monarch Tavern in Toronto, and started slicing his dry aged, hand cut smoked meat. There was a good crowd that day. So good, in fact, that he sold out of meat and had to close for two weeks.
(more…)
Friday, June 5th, 2009
When I often write about saving delis, it usually occurs after a deli has closed down. Those are sad occasions, which ultimately serve to remind us all as to why we have to fight for delis to survive, to fight, and ultimately to prevail. But for the deli that's just passed, there's precious little we can do my friends. It is history.
Not this time.
This time we fight. (more…)
Tuesday, June 2nd, 2009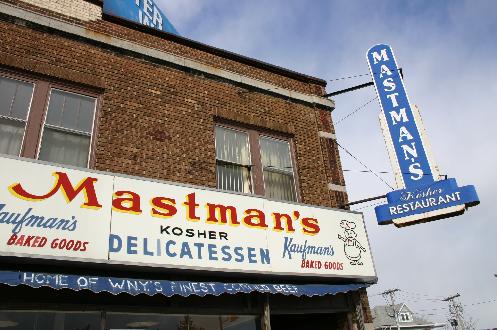 Great article today from the Buffalo News, and not just because it mentions me and my upcoming book (though, note to Mr. Simon, I'm from Toronto, not Montreal). Simon's a lover of deli and he's been lamenting its demise. What's surprised him is that he's not alone. Read on:
Deli dearth strikes a hungry chord
And I thought I was a rarity a couple of weeks ago lamenting the disappearance of my favorite deli —Risa's—and her delicious matzo ball soup from Hertel Avenue. Was I wrong.
"My phone started ringing at 7 p. m.," wrote Risa Paonessa about my column on my unfulfilled yearning for her glorious matzo ball soup, sandwiches and the current general lack of a good Jewish deli inside the city limits.
Well, my e-mail box filled up too. And so did my telephone receiver. (more…)
Monday, June 1st, 2009
So things are moving along as the buzz for Save the Deli builds.
First, this weekend was the Book Expo America, the industry's giant sales tradeshow, where book buyers meet publishers, and place their orders. My US publisher, Houghton Mifflin Harcourt, had their lunches during the conference catered by the 2nd Ave Deli. They did so well, they needed to restock their table, because editors, writers, and sellers were going crazy over the pastrami.
(more…)