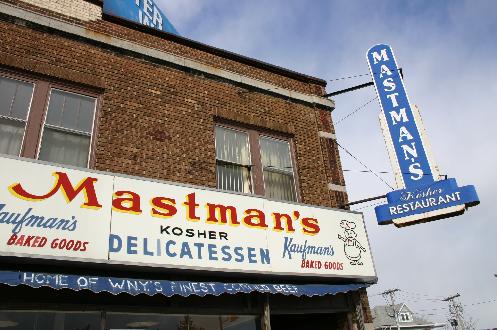 Great article today from the Buffalo News, and not just because it mentions me and my upcoming book (though, note to Mr. Simon, I'm from Toronto, not Montreal). Simon's a lover of deli and he's been lamenting its demise. What's surprised him is that he's not alone. Read on:
Deli dearth strikes a hungry chord
And I thought I was a rarity a couple of weeks ago lamenting the disappearance of my favorite deli —Risa's—and her delicious matzo ball soup from Hertel Avenue. Was I wrong.
"My phone started ringing at 7 p. m.," wrote Risa Paonessa about my column on my unfulfilled yearning for her glorious matzo ball soup, sandwiches and the current general lack of a good Jewish deli inside the city limits.
Well, my e-mail box filled up too. And so did my telephone receiver.
CLICK HERE TO READ THE ARTICLE AT BUFFALONEWS.COM
It seems I had touched a nerve— one located in the tongue, where the savor of great delicatessen soups and meats and sandwiches lasts a lifetime no matter what the stuff's cholesterol count might do elsewhere in your body.
Tara Ellis, for instance, of the Hauptman-Woodward Institute, immediately wrote me that some of the scientists there had recently complained "about the same issue" (i. e., no good Jewish deli in the city).
The great news there, of course, is Risa herself wrote that she is "currently negotiating to open up a new location on Delaware Avenue in downtown Buffalo. If all goes as planned, I should be opening in July."
And, if it does, I can't promise I'll be the first customer through her door, but I don't intend to let much time go by without immersing myself in her matzo ball soup.
From the small avalanche of commiserations and words of advice I received, there were many instructions on where to go for what I craved, besides the much-praised Wegmans on Sheridan Drive and Tops Market on Maple Road in Amherst.
Many readers extolled the virtues of Jonny C's New York Deli, 9350 Transit Road in East Amherst. I looked up its menu on the Web, and though I must say it looked delicious, the free-form mix of Jewish deli food and ham sandwiches, etc., would have been enough to cause the denizens of Mastman's a generation ago to plotz.
Brand new is the Nosh Comfort Food Cafe on 7900 Transit Road in the Premier Plaza between Sheridan and Maple. Early reports are splendid. We expect at least one full report on that in Gusto soon.
CLICK HERE TO READ THE ARTICLE AT BUFFALONEWS.COM
Meanwhile, my column seemed like pathetic whining indeed when I heard from former Buffalo resident Barry Zavah, an attorney who now lives in Fort Worth, Texas.
In fact, he wrote that he worked at Mastman's in 1966-67 and "the aromas are still with me."
"We're spoiled in Buffalo," he contends. "Try being out here; when you're 57 miles from I-10, the nearest interstate heading east and 90 miles heading west."
"Trade you some West Texas barbecue for some fine deli," he offered.
All of which brings up my major discovery after writing that column. My complaint, it seems, is a national one. The disappearance of cholesterol-rich Jewish deli cuisine has become a fact coast to coast.
In October, a young man from Montreal named David Sax will publish a book called "Save the Deli" (Houghton Mifflin, 300 pages, $24), in which he travels America in search of the foods he remembers so fondly from his youth in Montreal.
Sax, who is only 30, writes in the book: "In many cities delis simply no longer exist. In others, one or two holdouts are barely hanging on. Traditional products are disappearing from menus and shelves because they don't fit into the bottom line … But the situation is not without hope. Delis do their best against tremendous odds."
Which makes our local situation seem rather comfortable, actually— enough for me, at the moment, to stop my kvetching.
CLICK HERE TO READ THE ARTICLE AT BUFFALONEWS.COM
Oh, and I won't be 30 until September, but who's complaining? Thanks Jeff!