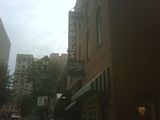 For the past several years, one Matt Brookman of Philadelphia has been writing me regularly, to fill me in on the comings and goings of the Philly deli scene. He's tight with deli owner/serial opener Russ Cowan, and I asked Matt to file a report from the opening of the new Famous 4th Street Deli that Cowan opened on the 4th. Take it away Matt…
The highly anticipated opening of Russ Cowan's 2nd location of Famous 4th Street Deli happened on September 4th with very little fanfare the way Russ seems to like it.  The opening had been rumored for a while but the exact date was a mystery.  Finally the doors opened on Friday afternoon and the patrons soon followed.  The weekend was supposedly very busy and if today was any evidence, this 2nd location of Famous 4th Street is going to be a huge success.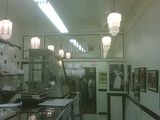 The new location is at 38 S. 19th Street, which is in near a lot of the big office buildings in center city and just a few blocks from Rittenhouse Square and a lot of high rise apartments.  The 60 seat deli is in an incredible mini version of the original Famous, from the vestibule entry to the mirrored refrigerator doors, and the antique lights.  Looks are one thing, but how would the food and service compare?  We were seated at a table in the front and our waitress was very accommodating.  Large glasses of water with lemon were brought over in large plastic coke glasses.  She also brought over pickles and health salad.  Many familiar faces were evident at the new location.  Russ brought over some of the staff from the 4th Street Location so there would be a smooth transition.  I ordered a corned beef on rye.  Russ cures his corned beef and pastrami in house and then steams it to perfection.  It is served on incredible Ginsberg Rye, which is brought in from Atlantic City, NJ.  I also had to order a side of their incredible fries to see if they were any different.  All I have to say is that they didn't miss a beat.  The corned beef was juicy and and melted in your mouth and the fries were spot on.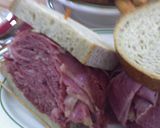 It is very rare that a 2nd location is the same as the original, but everything was as I remembered from the 4th street store. Famous has a full menu that includes incredible Cabbage soup and chicken noodle that as good as bubby's. If you come for brunch or at anytime in the day, they have an incredible selection of smoked fish and egg dishes.  A true sleeper at breakfast is their incredible challah french toast that is probably a loaf of challah.  They first cook the challah on the flat top to sear it and then it is put in the deep frier.  Once out of the frier, it is topped with powder sugar.  This will add about five pounds after you eat it, but it is well worth it.  
If you come for dinner, Famous has all the traditional jewish dishes from brisket, stuffed cabbage, flanken, and chicken in the pot.  A personal favorite is the romanian tenderloin.  The tenderloin is covered is browned onions and mushrooms.  Truly a meat lovers dream.  Get that with a side of kasha varnishkas and you will be in heaven.  The new location is only open for lunch and dinner during the week and brunch will be served on the weekends.  A great addition to center city and one that hopefully will be open for years to come.   Heading back on Friday and will give some other things on the menu a try.  If anyone is looking for great deli they should come to Philly!  For more info on Famous 4th Street Deli, you can go to famous4thstreetdelicatessen.com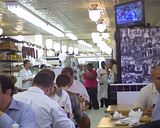 Thanks Matt. I really do need to get to Philly. I know…I know.