Monday, March 29th, 2010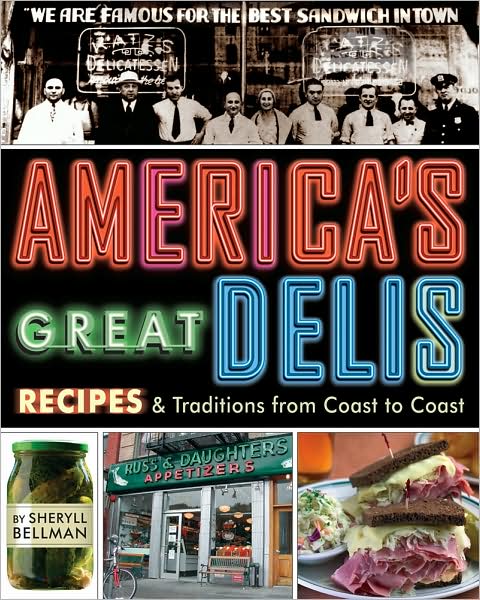 Well, the final hours of bread eating are upon us. I had a delicious bagel here for breakfast, and by god am I going to feast on the carbs for lunch.
Yes folks, Passover (or Pesach, if you will) is upon us once more. And rather than post the usual clips of matzo jokes, I'm going to suggest you all go out and pick up the following gift for your seder hosts:
Four years ago, author Sherryl Bellman published the coffee table/cookbook "America's Great Delis", a visual feast of photographs, essays, history, and schmaltz that chronicled many of the finest American Jewish Delicatessens of the past and present. With full color pictures, recipes from these delicatessens, and some of the best memories by friends and family, it was the perfect compliment to my own, decidedly wordy and picture-less Save the Deli.
Unfortunately, the book sold out and then was out of print for the past few years. I gave my last copy to the designer of this website (it was worth it), and really would love to have another. Now, just in time for Passover, the Lords of publishing delivereth.
Sellers Publishing has just released the paperback edition of "America's Great Delis", which went on sale a few weeks ago. You already have a copy of Buy it here.
And enjoy the seders everyone. Chag Sameyach.
Wednesday, March 24th, 2010
Ladies and Gentlemen!
Tonight only, I, David Sax, will be in conversation about all things deli with the esteemed "Food Maven" Arthur Schwartz at the Museum of Jewish Heritage, here in New York City.
For those of you who don't know him, Arthur Schwartz is to New York food (especially Jewish New York food), what Chevrolet is to NASCAR. He's a true maven, with six cookbooks to his name, including one on Yiddish food. And the man knows the history of New York Deli better than anyone else, and I'm including myself in that distinction.
So as Passover beckons, come and join us for what will surely be an appetizing talk on all things edible.
The Museum of Jewish Heritage (formerly known as the Holocaust Museum)
7 PM, tonight, March 24th
36 Battery Place • Battery Park City • New York, NY
for tickets, CLICK HERE or call 646.437.4202
Monday, March 22nd, 2010
Exciting news.
One week after I host a dinner at the James Beard House, I find out that Save the Deli has been nominated for the James Beard Awards.
For those of you who don't know, the James Beard Awards are basically the Oscars of the food world (actually, more like the Golden Globes, because they can eat during the presentation). Chefs, cookbook writers, and restauranteurs are nominated. Past winners include Julia Child, Michael Pollan, and Claudia Roden. There's also lifetime achievement awards, including one given to Langer's Delicatessen.
Save the Deli is nominated in Food Literature, and is up against two wonderful books that couldn't be more different:
-Waste, by Tristram Stuart, which is about all the food we waste in this world of ours (finish your sandwich people!)
-The Seasons on Henry's Farm by Terra Brockman, which takes you behind the scenes of an organic farm
The awards will take place on May 2nd in New York City. Fingers crossed!
Monday, March 22nd, 2010
I know I should have posted this ages ago, but it came out when I was on book tour, and someone finally sent me the link.
If you are near Houston (and soon to be Dallas) and haven't been to Kenny and Ziggy's, check it out.
Thursday, March 18th, 2010

credit: Elina Shatkin
Well, it was bound to happen. If there's two things LA does really well, it's automobile transport, and Jewish deli.
So it was only a matter of time when the two came together, and the LA deli food truck began rolling. There's been attempts at this before, but now the city's most famous deli is getting in on the action, as Canter's unveils their new deli truck.
Here's what LA Weekly says:
Canter's Deli, an institution known as much for its round-the-clock service and its preserved-in-amber ambiance as for its cuisine, just leapfrogged into the year 2010 with a food truck that hits the streets of Los Angeles — hopefully this week. The Canter's Deli truck (Twitter: @canterstruck) is the brainchild of Bonnie Bloomgarden, a great-great-granddaughter of Ben Canter, one of the brothers who opened the first L.A. incarnation of Canter's in Boyle Heights in 1931.
The truck soft-opens this week with a limited menu that will expand over the next few weeks to include seven sandwiches (pastrami, corned beef, turkey, egg salad, tuna salad, grilled cheese and a Reuben), a couple sides (cole slaw and potato salad), green salad and matzoh ball soup. Also on the menu: pickles, Dr. Brown's sodas and desserts like rugelach, mini-Danishes, black-and-white cookies and cheesecake. The sandwiches, made with the same meat and house-made bread as the ones at the sit-down restaurant, will cost $5 – $10 and, in keeping with their reduced price, will be approximately 25% smaller than the gut-busting originals. "They're still ridiculously large," Bloomgarden says. READ THE REST HERE
Can this be the start of an all out mobile deli revolution, not just in LA, but in America? Can you imagine a world where Langer's, Katz's, Mile End, or Manny's comes right to your door, your school, your oil derrick?
I sure hope so. Bravo to Bonnie Bloomgarden, the 5th generation Canter, who proves once again that keeping it in the family is the key to success.
Tuesday, March 16th, 2010

photo courtesy of the Tribeca Trib
Well hello there, long time no see.
Yeah, I've been a bit absent lately, traveling in the past two weeks to Toronto (wedding planning), Whistler (skiing), and Florida (deli talking). Got back to New York yesterday, and headed straight for the James Beard House, where the Schmaltz to Remember dinner was a tremendous success. Many thanks to all who participated and helped organize last night. You're all mentsches!
Now, because so much deli related news and stuff has piled up, I'm just going to run through it all today. Hold onto your mustard.
First off, the Brooklyn by way of Montreal upstart Mile End has earned the title of Best Deli of 2010 from New York Magazine:
Mile End, the barely open, instantly overrun Canadian-Brooklyn oddball, has already, in its infancy, reinvented the venerable form. This is a deli for locavores, a deli for the next generation of deli lovers, with a respect for tradition contemporized by a rare premium on great, fresh ingredients, cooked from scratch, smoked and pickled in-house, served with an unfamiliar (in the deli world, anyway) smile.
A few weeks back, I set out on a little mission with my friend, and journalist, Saki Knafo. He was writing about me for the Tribeca Trib, the neighborhood's premiere paper, and we set off to find Jewish foods south of Canal St. Not an easy task, let me tell you. But after some decent appetizing at Zucker's Bagels and Smoked Fish, we hit paydirt with the stellar matzo ball soup and knish at Izzy and Nat's, in Battery Park City, which opened over a year ago. And then we capped it at an old favorite of mine, Amazing 66:
Finally, it was time for a visit to that most sacred of Jewish culinary destinations: Chinatown.
"All Jews love Chinese food," Sax declared with rabbinical authority over a plate of pastrami-fried rice at Amazing 66 on Mott Street. According to Sax, the restaurant was founded by an accountant who spent a life-changing lunch hour with a Jewish colleague at the Second Avenue Deli. Sax pinched a pink speck of meat between his chopsticks and held it aloft, as though to punctuate a point. "Chinese food and deli," he said. "The ultimate Jewish meal."
By the way, if you want to hear me speak downtown, I'll be appearing in conversation with Food Maven Arthur Schwartz, next wednesday March 24th, at the Museum of Jewish Heritage. BUY TICKETS HERE
Now for some sad news. Not one, but two delis have recently closed.
First, Bloom's Delicatessen, in Westchester, NY, has a "For Rent" sign in the empty window of their plaza, though oddly enough, their website is still running, and still awesome. Hopefully they'll be able to reopen soon.
Second, Florida's Deli Den has been forced to close after a dispute with the landlord. This was one of the last holdouts to serve the early bird special, and I spoke with Vered, the owner, a few years back. But keep holding your breath, because she intends to reopen somewhere nearby. READ ABOUT IT HERE IN THE SUN SENTINAL
But don't fret too much deli lovers, because the unstoppable Ziggy Gruber apparently has a letter of intent to expand his Kenny and Ziggy's empire into Dallas. Says the Dallas Observer:
"We have a letter of intent with the landlord, a nonbinding letter of intent," he tells Unfair Park this afternoon. "They sent it, we went it back with the terms. We're technically in negotiations now. We haven't sat at the table. This is preliminary stuff. We've expressed interest in the spot, but the ball's in the landlord's corner, and it's up to him. That's all I can tell you. We're waiting for the landlord to tell us."
And finally, here's a little number that was sent to me by a whole bunch of you. Recorded at a synagogue not ten blocks from where I grew up. Sorry, the sound is fairly awful:
It's good, but this is clearly the king:
Tuesday, March 2nd, 2010
And now for something truly special.
Deli is a great food of the people, and every good foodie worth their salt and foie gras is a deli lover. High end chefs like Mario Batali, Anthony Bourdain, and others have all touted their love of pastrami. But until now, there haven't been many attempts to bring the deli into a gourmet realm, let alone explore the culinary possibilities of traditional Ashkenazi cuisine.
Well, Save the Deli is helping to do this, for one night only in New York City.
On March 15th, the illustrious James Beard House will be hosting "A Schmaltz to Remember", a gourmet dinner featuring deli inspired dishes from some of New York's finest chefs.
Even if you don't know your derma from your deckle, this celebration of delicatessen delights will not disappoint—and you won't go home hungry. I've assembled a team of talented chefs to transform once-pervasive deli classics into creative, contemporary cuisine. Eat. Eat!
What's on the menu?
How about hors d'oeuvres from some of the finest delis in NYC:
Adelman's Chopped Liver, Ben's Best Miniature Cabbage Rolls, Liebman's Hush Puppies, and Second Avenue Deli's Miniature Gefilte Fish all paired with Broadbent's Vinho Verde NV and JoeDoe's Housemade Cel-Ray Soda and Gin Cocktails.
The tables will be piled with Bagels, Challah, Pumpernickel Rolls, and Rye Twists from Commerce
Then the courses and chefs:
David Sclarow, of Brooklyn's Pizza Moto mobile pizza oven, will be tossing up a Smoked Tongue Salad with Rye Croutons, Pickled Shallots, Seasonal Greens, and Grainy Mustard Vinaigrette. Paired with a Château Musar Cuvée Blanc 2007
Bruce Bromberg and Eric Bromberg, owners of Blue Ribbon Restaurants, will be ladling Martha's Excellent Matzoh Ball Soup with a Machherndl Kollmütz Grüner Veltliner 2007.
Harold Moore and Snir Eng-Sela of Commerce are giving a taste of Hot-Smoked Sturgeon with Dilled Potatoes, Beets, Horseradish, and Caviar Jus, served with Quinta Do Crasto Duoro White 2007.
George Lazi, the Fig & Olive who got his cooking start at Ben's Best Kosher Deli, will fuze the Mediterranean with the European, in his Zucchini Pasta with Pastrami, Sun-Dried Tomatoes, and Tapenade. Served with Weinert Malbec 2004, a wine I know well, as it is made by my friend Iduna Weinert's family in Argentina, and is the most delicious Malbec to come out of Argentina.
Joe Dobias, of the East Village's Joe Doe (which has been featured for its Jewish influences), will give diners Braised Beef Brisket with Horseradish, Kreplach, and Tongue, washed down with Pago de Larrainzar 2005.
And finally, there's dessert, the most important course of all. My good friend Betsey Divine, from the Salvatore Ricotta cheese company, is going to be transforming that beautiful cheese into Honey–Lemon Ricotta Cheesecake, paired with a Broadbent 5-Year-Old Reserve Madeira, which has been provided, along with all the wines, courtesy of Betsey's lovely wife Rachel Mark, of Broadbent Selections.
Plus, I'll be there, talking about the role of deli in the food world, and how we can expand our culinary horizons on the Jewish palate.
There are approximately 40 tickets left for the event, and they are going fast. Each seat costs $125 ($100 for James Beard foundation members), and all proceeds go to support education and other programs at the James Beard Foundation. The chefs have donated their time and ingredients, and even the booze is donated. Yes, it's more expensive than your standard lunch at the deli, but I challenge you to find a Jewish meal presented by a group of talented kitchen all-stars of this calibre, for half this price.
Call 212.627.2308 to reserve. Or book online.
Hope to see you there.
Monday, March 1st, 2010
I had a fantastic lunch at Mile End on Saturday, and have to say that they're really hitting their stride. The place was packed, the bagels are now abundant and brought in each Saturday from St. Viateur, and the food was spot on. I tried the chive and potato latke with the homemade gravlax, plus the Ruth Wilensky (always stellar), and the smoked meat, which seems to be improving. They've solve the space problem with a nearby prep kitchen, so the meat shortage should be a thing of the past.
All this, and more, is reason enough to vote in Time Out New York's reader's choice awards, where Mile End is nominated in the category of "best new sandwich". Click here to show the kids your support.