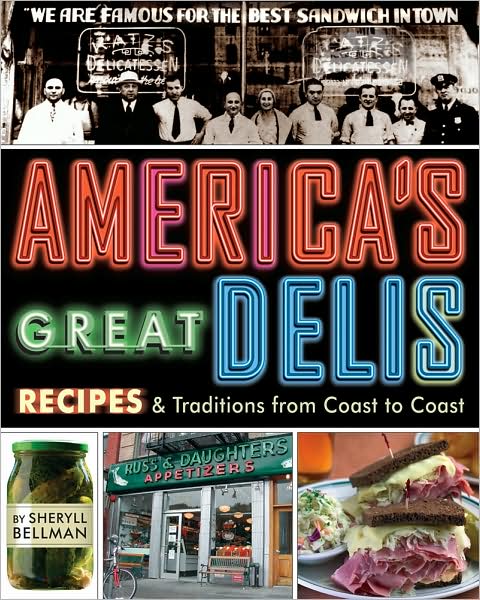 Well, the final hours of bread eating are upon us. I had a delicious bagel here for breakfast, and by god am I going to feast on the carbs for lunch.
Yes folks, Passover (or Pesach, if you will) is upon us once more. And rather than post the usual clips of matzo jokes, I'm going to suggest you all go out and pick up the following gift for your seder hosts:
Four years ago, author Sherryl Bellman published the coffee table/cookbook "America's Great Delis", a visual feast of photographs, essays, history, and schmaltz that chronicled many of the finest American Jewish Delicatessens of the past and present. With full color pictures, recipes from these delicatessens, and some of the best memories by friends and family, it was the perfect compliment to my own, decidedly wordy and picture-less Save the Deli.
Unfortunately, the book sold out and then was out of print for the past few years. I gave my last copy to the designer of this website (it was worth it), and really would love to have another. Now, just in time for Passover, the Lords of publishing delivereth.
Sellers Publishing has just released the paperback edition of "America's Great Delis", which went on sale a few weeks ago. You already have a copy of Buy it here.
And enjoy the seders everyone. Chag Sameyach.