Tuesday, June 22nd, 2010
Nothing much to say about this great story on Jewcy, except it is pretty perfect for all us deli lovers of all stripes:
When Shiksa Met Jewish Meat
Exploring The Current State of the Jewish Deli
by Ellie Ratcliff, June 21, 2010
My mom tells me she once went through a corned beef phase of her life. At thirteen, after trying a corned beef sandwich for the first time, it was all she would order at restaurants. She'd eat the sandwich for days at a time. A little corned beef with her breakfast eggs, left over beef for dinner. Just imagine: a Chinese pre-teen rubbing elbows with your bubby at the local deli. The Chinese and Jews seem to have an unspoken bond, probably due to the Jewish tradition of Chinese food for Christmas dinner.
When I was thirteen, I was obsessed with lox shmear on poppy seed bagels. I'd dream about latkes and Dr. Brown's cream soda, crave matzo ball soup for my sore throat. It's possible my love for Jewish food is in my non-Jewish blood, but I think it's the result of growing up in Berkeley, CA. As a kid, many of my friends were Jewish. And what did being Jewish mean to me, besides bar mitzvahs and saying words like "schmuck"? It meant getting to eat all these delicious things I couldn't get anywhere but my friend's kitchen and the neighborhood deli. Cholent, Matzah Brei, Pastrami. Forget the Old Testament, I learned about Judaism through eating. (more…)
Friday, June 18th, 2010
More bad news. Fresser's, the LA Pastrami truck, has decided to ground its wheels, and stop rolling out the meat.
The news came at the start of May, but I just heard about it now. Here's what they wrote on their blog:
After much thinking, conversation, and soul searching we have decided that the time has come to close our doors. We enjoyed our time on the Fresser's truck serving you our delicious pastrami. We've met a lot of wonderful people and made new friends along our journey, and we will miss you all. Thank you all for your support!
Please join us to say farewell at beautiful Calamigos Ranch in Malibu. This will be our last event and all are welcome! We will be there with our friends Flying Pig, so come have a bite, a glass of wine, and help us give the truck a proper goodbye!
Thank You,
Jessica Ary & Scott Helberg
Anyone out there try Fresser's when they were in business? Share your stories with us.
Wednesday, June 16th, 2010
A quick note for you Garden State deli lovers. The venerable Goodman's of Berkely Heights, NJ is under the new ownership of Don Parkin, a committed deli fanatic. Don's assured me that he's keeping faithful to the tradition of the Goodman family, who remain regular customers. Considering this place has been around since 1943, it's a gem worth preserving, and we wish Parkin the very best of luck.
Here's a look at Goodman's back in the day:
Goodman's Deli & Restaurant
goodmansdeli.net
400 Springfield Avenue
Berkeley Heights, NJ 07922
Ph: (908) 898-0900
Fx: (908) 898-0905
Monday, June 14th, 2010
It's Monday, and a week since I've gotten back from honeymoon, so let's clean out my inbox with stuff that's piled up, and I haven't posted yet.
First, to the news. The New York Daily News reports on Brooklyn's Mill Basin Kosher Deli (my favorite post-surf spot), where owner Mark Schachner is going head to head with the fast food chains. Reports Jake Pearson:
Mill Basin Kosher Deli owner Mark Schachner is waging a one-man war against fast food chain restaurants – determined to debunk the myth they're better bargains than his traditional kosher deli.
"Meat to meat and french fry to french fry, we're 100% cheaper," said Schachner, 57, who sent out secret shoppers to order from fast food joints to measure the weight of fries, burgers, hot dogs and the meat in sandwiches….
Just as Schachner predicted, the deli's hot dogs, fries, turkey and burgers are cheaper by the pound than what's sold at fast food joints like Subway, Nathan's and McDonald's – even if as individual items they're more expensive.
His covert buyers compared the $8.95 Mill Basin Deli burger, packed with .57 pounds of kosher beef, to a $4.29 Whopper from Burger King, which weighs only .18 pounds – a price-per-pound saving of $8.13…. "I sell a hot dog for $2.99 and Nathan's sells it for $2.99 so it's the same price, but Nathan's is a 2-ounce dog and mine is 4 ounces. It's not a fair comparison."
So now you have an economic reason, as well as taste and tradition, to skip the chains and stick to the delis.
Next, in the sports section, Manny's is celebrating the recent Stanley Cup win of the Chicago Blackhawks with an edible recreation of Lord Stanley's trophy made from knishes, kishke, rye, and corned beef. As the great Joe Bowen would say, "Holy Mackinaw!".
And finally, a series of videos I've been meaning to post for some time. (more…)
Friday, June 11th, 2010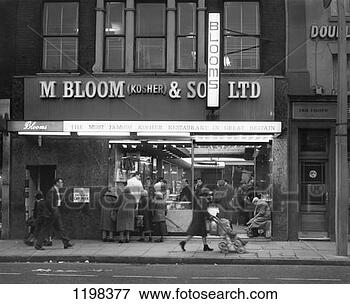 Well, if this isn't the worst week on Save the Deli, I don't know what is. First I write about Ottawa's Nate's closing. Then about Joan and Ed's. But what comes next is surely the worst…
Our UK correspondent, Anthony Silverbrow, sent me a note this morning, informing me that London's flagship kosher delicatessen, Bloom's, has closed down. This is an immense tragedy for salt beef lovers. Silverbrow pointed me to an article in London's Jewish Chronicle, which confirmed the end of Bloom's:
Bloom's restaurant closes in Golders Green
By Robyn Rosen, June 10, 2010
Bloom's restaurant in Golders Green has gone into liquidation.
It has been closed since Sunday and a notice on the door asks creditors to contact insolvency firm David Rubin and Partners. A creditors' meeting is being held on June 25.
The iconic Bloom's restaurant in Whitechapel opened in 1920 and closed in 1996. The Golders Green branch opened in 1965 and was renovated in 2007. An Edgware outlet launched in 2007 lasted only a year.
A Bloom's waiter, who asked not to be named, said he had not been paid for six weeks – and some colleagues had gone unpaid for longer. "I turned up on Sunday and talked to the manager who said it had closed down. Some staff had refused to work because they weren't being paid so they had to shut. I just had to go home after that."
Rabbi Jeremy Conway of the London Beth Din kashrut division said: "Bloom's has flown the flag for kosher restaurants for the best part of a century. We are saddened to learn of its demise.However, we must see this sad news in the context of the constant growth of the kosher restaurant scene in London. There are now some 15 kosher establishments lining the block for so long dominated by the Bloom's emblem. The ever-increasing number and variety of kosher restaurants is exciting and testimony to the vitality of Jewish life in London."
Jonathan Tapper, the last link with the Bloom family, said the closure was "very sad and the end of an era. But it's nothing to do with the family since the business was sold. It's a shame that the name could not continue."
For most of the 90 years, Bloom's was the best known kosher delicatessen in London, and likely outside North America. It began in the hardscrabble east end, on Whitechappel St, center of the garment workers, and the area where London's Jewish immigrant population settled in the same way they did in New York's lower east side. Run by Morris and Rebecca Bloom, Lithuanian immigrants, it was a gathering spot for housewives, boxers, bookies, dockworkers, garmentos, gangsters, and others craving hand carved salt beef sandwiches. Yet its fame reached beyond the community, introducing deli to Brits of all creeds and classes, and making salt beef a nationally recognized institution. Celebrities and royals rubbed elbows with rabbis and cockney street toughs. Its fame was on par with Katz's, and it was renowned for having the rudest waiters in all London.
Much of the East End was heavily damaged during the Nazi Blitz, and many Jewish families moved up and out to the city's north end in the decades following the war. The suburb of Golder's Green became London's New Zion, with a high street boasting delicatessens, bakeries, and other smart shops, close to row houses with proper gardens. Bloom's opened an outpost here in 1960, though the original Whitechappel location survived until a kosher inspection scandal forced it to close in 1996 (it's now a Burger King).
I first visited Bloom's back in the fall of 2002, with my parents, and my mom's elderly aunt Betty, who is still kicking and kvetching in her 90′s. It was hardly the best deli meal I hate, and the waiters were indeed as rude as their reputation, but it was an iconic institution nonetheless. But things were sliding. Customers were aging and dying off. The food had been outsourced, and the salt beef wasn't what it once was. In 2007, when I visited it last, the family had opened another outlet in Edgeware, the next suburb up the line, but it didn't last too long. They renovated the Golder's Green store, made it more funky, but it was just a change of window dressing.
And so Bloom's passes like so many others into the night. Could it have been saved? Perhaps. The deli business is a game of long term strategy, and somewhere along the line, the owners made some crucially wrong moves. The focus shifted away from the food and the tradition. Quality decreased for one reason or another. Or perhaps there just wasn't room anymore for London's oldest Jewish delicatessen.
Either way, we hang our heads in shame, and mourn its loss.
Thursday, June 10th, 2010
From one deli closing to another, oy. This time in Framingham, Mass:
Joan & Ed's Deli to close forever after Father's Day
By Charlie Breitrose/Daily News staff
MetroWest Daily News
Posted Jun 10, 2010 @ 10:56 AM
Last update Jun 10, 2010 @ 12:05 PM
NATICK —
A culinary icon in the Golden Triangle will shut its doors for the last time on Father's Day, the owners of Joan & Ed's Deli announced today.
Ed and Joan Sanderson have run the deli in the area along Rte. 9 at the
Framingham/Natick line for 33 years, but have decided it's time to retire.
"We hate to call it quits but there comes a time to hang it up," Ed said.
"We will be closing (at the end of) Father's Day, June 20, so we can give people time to come by and say goodbye."
Joan and Ed's is the longest running restaurant in the Golden Triangle,
besides Ken's Steakhouse, Ed said. The Sandersons prided themselves in serving many products made right there in the restaurant, such as pastries, knishes, briskets and kugle.
The deli started in Framingham's Shoppers World in 1977, and then moved
across Rte. 9 and across the town line to Natick's Sherwood Plaza (now near the Christmas Tree Shops) in 1994.
Running an independent restaurant has become more difficult, too, Ed said.
"It's harder to fight the battle with the economy, with insurance, government programs, health insurance and regulations," Ed said. "Years ago when we first opened, there were dozens of delis, now can count on one or two hands."
This morning, the Sandersons told their 32 employees about their plans to
close the deli. The couple, who lives in Framingham, plans to spend more time
with friends and family, and enjoy their home in Maine.
Go while you can.
Joan & Ed's Deli Restaurant
www.jedeli.com
Sherwood Plaza – Route 9 East
1298 Worcester Road, Natick, MA 01760, United States
(508) 653-4442
Tuesday, June 8th, 2010
Back from my honeymoon and cleaning out the inbox. It's not the best way to start my new married life as a deli lover, but I did come across some sad and important news relating to the final days of Nate's deli in Ottawa. I'll let the Ottawa Citizen take up the rest of the story:
Nate's Deli closes its doors after half a century
By Jennifer Green, The Ottawa Citizen May 25, 2010
OTTAWA — As the fluorescent lights went dim and the lineups finally diminished, the staff at Nate's Deli on Rideau had nothing left in them but sore feet and sighs. The Ottawa landmark had closed for good on its 50th anniversary.
"We made it," said Tony Paolino, leaning on the counter where he has sliced and served smoked meat since 1979. "These last few weeks have been crazy."
Ever since word got around that Dave Smith was hanging up
his apron, customers have been streaming into 316 Rideau St., getting that last smoked meat, wishing the staff well.
Etna Greening — her intravenous line tucked into her purse beside her — was enjoying a final Reuben at 7:40 p.m., just 20 minutes before closing. Against her doctors' advice, she left the hospital for one last sandwich at Nate's. "It's so damn good."
Dave Smith, in a white T-shirt, apron, and his Order of Canada pin, leaned back, exhausted, as Maureen and Emile Arial made their way out. They had dated at the deli and now, years later, they had to come back to say goodbye for one last dinner. Of course, Smith ever the host, gave them both great hugs.
As waiter Blake Robertson slid her order in front of one woman, she said to him: "It's so sad. Where will I get my smoked meat?"
"Sad! I'm unemployed," he replied with a laugh. "I got a bigger problem. Where am I going to get my rent money?"
Robertson had worked at the place on and off since he was 13 or 14, starting by washing dishes.
Now, at 52, he's going to take a few weeks off, drive around in his new convertible, and then look for work.
Not everyone lasted that long. One guest book entry recalled: "I was an employee in 1975. Maybe one week."
Smith said younger wait staff often struggled. "It was hard for them to understand the menu. The knishes and the latkes. They didn't know what they were."
READ THE REST OF THE STORY HERE

CHECK OUT THE PHOTO GALLERY FROM NATE'S FINAL DAYS HERE



photo credit: Christopher Pike
So long Nate's. You'll be missed dearly.