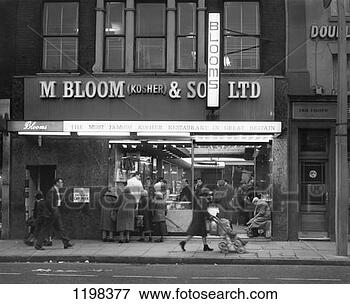 Well, if this isn't the worst week on Save the Deli, I don't know what is. First I write about Ottawa's Nate's closing. Then about Joan and Ed's. But what comes next is surely the worst…
Our UK correspondent, Anthony Silverbrow, sent me a note this morning, informing me that London's flagship kosher delicatessen, Bloom's, has closed down. This is an immense tragedy for salt beef lovers. Silverbrow pointed me to an article in London's Jewish Chronicle, which confirmed the end of Bloom's:
Bloom's restaurant closes in Golders Green
By Robyn Rosen, June 10, 2010
Bloom's restaurant in Golders Green has gone into liquidation.
It has been closed since Sunday and a notice on the door asks creditors to contact insolvency firm David Rubin and Partners. A creditors' meeting is being held on June 25.
The iconic Bloom's restaurant in Whitechapel opened in 1920 and closed in 1996. The Golders Green branch opened in 1965 and was renovated in 2007. An Edgware outlet launched in 2007 lasted only a year.
A Bloom's waiter, who asked not to be named, said he had not been paid for six weeks – and some colleagues had gone unpaid for longer. "I turned up on Sunday and talked to the manager who said it had closed down. Some staff had refused to work because they weren't being paid so they had to shut. I just had to go home after that."
Rabbi Jeremy Conway of the London Beth Din kashrut division said: "Bloom's has flown the flag for kosher restaurants for the best part of a century. We are saddened to learn of its demise.However, we must see this sad news in the context of the constant growth of the kosher restaurant scene in London. There are now some 15 kosher establishments lining the block for so long dominated by the Bloom's emblem. The ever-increasing number and variety of kosher restaurants is exciting and testimony to the vitality of Jewish life in London."
Jonathan Tapper, the last link with the Bloom family, said the closure was "very sad and the end of an era. But it's nothing to do with the family since the business was sold. It's a shame that the name could not continue."
For most of the 90 years, Bloom's was the best known kosher delicatessen in London, and likely outside North America. It began in the hardscrabble east end, on Whitechappel St, center of the garment workers, and the area where London's Jewish immigrant population settled in the same way they did in New York's lower east side. Run by Morris and Rebecca Bloom, Lithuanian immigrants, it was a gathering spot for housewives, boxers, bookies, dockworkers, garmentos, gangsters, and others craving hand carved salt beef sandwiches. Yet its fame reached beyond the community, introducing deli to Brits of all creeds and classes, and making salt beef a nationally recognized institution. Celebrities and royals rubbed elbows with rabbis and cockney street toughs. Its fame was on par with Katz's, and it was renowned for having the rudest waiters in all London.
Much of the East End was heavily damaged during the Nazi Blitz, and many Jewish families moved up and out to the city's north end in the decades following the war. The suburb of Golder's Green became London's New Zion, with a high street boasting delicatessens, bakeries, and other smart shops, close to row houses with proper gardens. Bloom's opened an outpost here in 1960, though the original Whitechappel location survived until a kosher inspection scandal forced it to close in 1996 (it's now a Burger King).
I first visited Bloom's back in the fall of 2002, with my parents, and my mom's elderly aunt Betty, who is still kicking and kvetching in her 90′s. It was hardly the best deli meal I hate, and the waiters were indeed as rude as their reputation, but it was an iconic institution nonetheless. But things were sliding. Customers were aging and dying off. The food had been outsourced, and the salt beef wasn't what it once was. In 2007, when I visited it last, the family had opened another outlet in Edgeware, the next suburb up the line, but it didn't last too long. They renovated the Golder's Green store, made it more funky, but it was just a change of window dressing.
And so Bloom's passes like so many others into the night. Could it have been saved? Perhaps. The deli business is a game of long term strategy, and somewhere along the line, the owners made some crucially wrong moves. The focus shifted away from the food and the tradition. Quality decreased for one reason or another. Or perhaps there just wasn't room anymore for London's oldest Jewish delicatessen.
Either way, we hang our heads in shame, and mourn its loss.