Monday, November 29th, 2010
Welcome back everyone. Hope the turkey was great.
I'm going to take today to talk about something not entirely deli related: mustaches (or moustaches). These furry creatures have adorned the faces of many fine deli men for many generations. Some of my favorites include the venerable stache of Lorne Pancer, at Toronto's Moe Pancer's delicatessen, but there are countless others. Mustaches are old school, masculine, and despite being the furthest thing from trendy, they are dependable and require a strong constitution to sport. They're the deli men of facial hair, and they deserved to be complimented.
I'm writing this because all month I've been sporting my own mustache for the prostate cancer fundraiser Movember. Over the protests of my wife and the mocking porno jokes of my friends, I've taken this Burt Reynolds number to Chicago, New York, Scottsdale, the Bahamas, and this coming sunday, on national television. In exchange for the albatross on my upper lip, I've solicited donations to Movember.com. All money raised goes toward prostate cancer research, a disease that affects many men, and has taken many great deli men and deli lovers from us over the years.
So please, if you have $10 or $1000 to spare, donate to my Movember page and help those men more manly than I.
Wednesday, November 24th, 2010
Happy almost Thanksgiving American friends. Here's our friend Joan Nathan in the New York Times today, sending us off to the turkey in haymish style:

Photo credit: Piotr Redlinski for The New York Times
To Revive Jewish Dishes, Some Cooks Look to the Shtetl
GROWING up in Montreal, Noah Bernamoff had an issue with his mother's kasha varnishkes.
"My mom's had so much kasha with a noodle here and there," he said. "I wanted to reverse the process to make it taste better."
Two decades later, in his Brooklyn delicatessen, Mile End, he is reinventing this Eastern European comfort dish in what he thinks might be the tradition of his ancestors.
Clearly, his Lithuanian great-grandmother never purchased bow tie noodles at the supermarket, so in his commissary kitchen he pinches dough into butterfly shapes by hand. They will later be tossed with buckwheat groats, caramelized onions and mushrooms cooked in duck fat, with a confit of chicken gizzards gently stewed in duck fat.
For several decades now, many American Jews with a passion for food and a desire for broader horizons tended to explore Sephardic cooking, with its lush Mediterranean accents. Recently, though, cooks have been pouring their energy into old Ashkenazic dishes that had traveled so far they had lost much of their flavor.
Mr. Bernamoff is one such cook, who wants to preserve the past, but not necessarily the recent past. For some cooks, the search for authenticity begins with ingredients that taste as they might have in Eastern Europe. CLICK HERE TO READ THE REST OF THE STORY
Enjoy the next few days. I'm going to be off in the Bahamas for a wedding. Oh yeah.
Also, the CBS story is now going to be the weekend after this one. Keep crossing those fingers.
Happy Thanksgiving
Monday, November 22nd, 2010
For all those who couldn't wait to buy the paper edition (or can't find Saveur, or are just cheap), good news. The article is now online at Saveur.com. While the text is there, I implore you to pick up a paper copy to see Landon Nordeman's amazing photographs (including the beauty of Schwartz's Frank Silva, above) and just experience this as you should.
CLICK HERE TO SEE THE ARTICLE AT SAVEUR.COM
Monday, November 22nd, 2010
Ok, so if you tuned in yesterday to CBS Sunday Morning, you undoubtedly didn't see me. I got a call late on Saturday night from the producer that my segment was being held until this coming Sunday, which is right before Chanukah. Unfortunately, I didn't have time (I was out eating pizza at this magic place), to update, and I apologize to those of you who tuned in disappointed. What can I say…tune in this sunday…hopefully I'll be there (I'll actually be in the Bahamas).
However…all is not lost. CBS did post a story on their website linked to the filmed piece. So read this and enjoy.
Delis: Timeless Temples of "Jewish Soul Food"
Jewish Delicatessens Preserve Traditions Beyond What's on the Menu
(CBS) Tradition . . . it's the main ingredient in every dish at an authentic Jewish delicatessen.
From corned beef to chopped liver, matzo ball soup to grilled salami – this is the taste of tradition: rich, spicy, and good for your soul (if not your cholesterol).
For more than 50 years, Jack Lebewohl and his family have done a few things right: Their Second Avenue Deli is a temple to Jewish-American cooking, where the sandwiches are so big, they're downright intimidating.
How does one eat one of their pastrami sandwiches?
"How do I eat it? Fatty," said Lebewohl. "Anyone who takes a lean pastrami sandwich, they think it's healthier, but it's not better, it doesn't taste as good!
"And if you're going to do it, do it right," he said. CLICK HERE TO READ THE REST
Friday, November 19th, 2010
Just a reminder to everyone out there to tune into CBS Sunday Morning for the Save the Deli segment. The show starts at 9 am (if you have to ask the day and channel…think twice), and I don't know what time the segment will be on. But it should be fun. Or entertaining. Or newsy. Either way, I have a mustache for Movember, so tune in.
Also, I neglected to mention in my note about the Saveur story yesterday the sensational opening essay by Besty Andrews about her grandmother, the deli lover. It's touching, funny, and as unschmaltzily nostalgic as something like that can be. Buy the issue and read it.
Thursday, November 18th, 2010
Friends, behold the glorious photograph above (credit to Landon Nordeman, a king amongst princes). These badass gents are kosher butchers in Budapest, about to turn beef into salamis, sausages, and other tasty treats. It opens my feature in the December issue of Saveur magazine called The Roots of Deli.
This past July, I traveled for eight days in Bucharest, Romania and Budapest, Hungary with photographer Landon Nordeman, searching for the culinary roots of the Jewish delicatessen. We ate in Jewish community centres, old aged homes, butcher shops, kosher restaurants, and private houses, tasting the schmaltzy essence (goose schmaltzy) at the heart of deli's taste. Highlights included incredible challah, Romanian cabbage rolls, goose liver cooked in goose fat, goose fat matzo balls, and even more goose. We topped it off with the Hungarian poppy seed cake, flodni.
The article focuses on the forces that not only created these foods, but sustain them in Eastern Europe's dwindling Jewish communities. Consider it an extra chapter to Save the Deli…one that never quite made it into the book. You can't see it online (Saveur is old school that way), but it's worth picking up a copy wherever finer magazines are sold. For the goose fat soaked recipes alone! Not to mention Landon's amazing photographs.
Tuesday, November 16th, 2010
Back in NYC this week, with much happening. Filming a segment about Save the Deli for the CBS Sunday Morning show tomorrow (to air on…you guessed it…Sunday morning), and also going to be doing a talk at the JCC of the Palisades in Tenafly, NJ on Thursday night (come on out).
And eating some good deli…clearly.
Friday, November 12th, 2010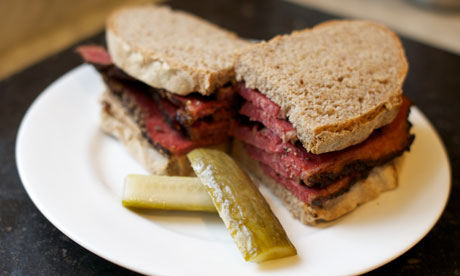 I've been meaning to post about this for a few weeks, but have been traveling a lot, and really don't have that good of an excuse why I haven't. They're actually pretty exciting. Despite the fact that I don't have a UK publisher, Save the Deli has gotten good press over in Britain, with coverage last year by the Independent and some Brit food bloggers. Considering there's an entire chapter devoted to London's salt beef, this hasn't come as a total surprise, but I'm always astounded when it continues.
A few weeks back, in New York, I was interviewed by a BBC correspondent at Adelman's Kosher Delicatessen in Brooklyn. She recently sent me the story, and I'm hoping the MP3 widget below works. This went out on Newshour, which is the Beeb's international radio news show. CLICK HERE TO DOWNLOAD THE MP3 OF THE INTERVIEW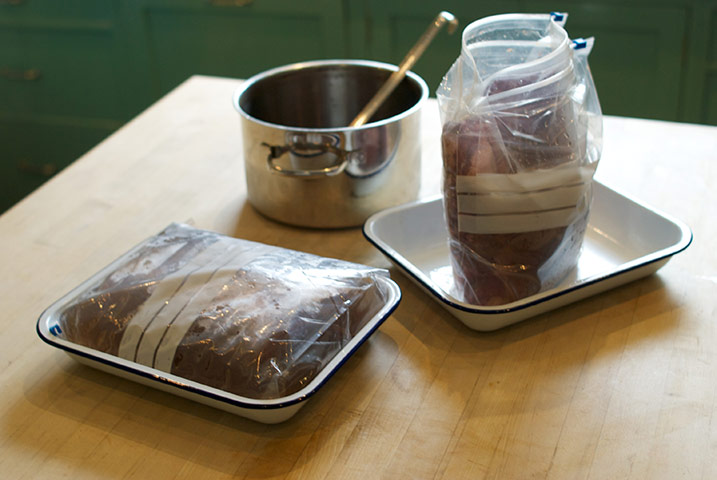 The other coverage is the article many of you have been waiting for. Guardian writer Tim Hayward uses Save the Deli as inspiration to pursue recipes for proper rye bread, pastrami, and yes British deli lovers, salt beef:
I write as nothing more than a greedy gentile but it seems to me that salt beef, though originating in Ashkenazi cuisine and firmly rooted in urban Jewish tradition is going to be a tremendous loss to all of us. It's part of a wider picture of city eating. (Until I read Sax's book I hadn't realised that the majority of New York's "kosher" delis were actually nothing of the sort, with the word standing in as a sort of awkward euphemism for "Jewish". The great Reuben sandwich, combining meat and dairy is about as forbidden as you can get under kosher laws yet it was the mainstay of many delis. Anyone wishing to truly keep kosher would need to seek out the "Glatt Kosher" delis of which, at their peak there were only ever a handful). In spite of its roots, salt beef has become latterly, it seems to me, as much "urban" as "Jewish" and every bit as much about London as New York.
Click through to the article and you'll find detailed recipes with beautiful photographs (including the two above), on how to create deli from scratch.
Wednesday, November 10th, 2010
I'm quite good at tooting my own horn, and pushing sales of my own book on this site, but today I want to spread the love around to two great books I've read lately.
Joan Nathan is the preeminent Jewish cook and cookbook writer in America, and has held this title for most of the past three decades. Her cookbooks are always a fascinating mix of history and recipe, and so enjoyable to read through. In "Quiches, Kugels, and Couscous: My Search for Jewish Cooking in France", Joan tackles what could be the most delicious nation for Jewish culinary arts, spanning both the Ashkenazi and Sephardic kitchens, to come up with gorgeous chopped liver, Mediterranean challahs, and dense chocolate almond tarts from 400 year old recipes. I've cooked from this book and it's an absolute delight. The Jewish world has so much to offer us in the kitchen, and the North American variation is just one chapter of this.
In Kosher Nation: Why More and More of America's Food Answers to a Higher Authority, journalist Sue Fishkoff tackles the most complicated, controversial, and economically significant element of Jewish food: kosher. If you ever wanted to know anything about the business and practice of kosher food, wine, and certification, this thing is less a bible and more of a Talmud, delving into every corner of the industry, from banquet hall kashering, to rabbis traveling around China, certifying ingredients that go into our processed foods. Truly fascinating, whether you are kosher, or not.
Holidays are coming folks…pick these up.
Monday, November 8th, 2010
Folks, it's always a pleasure to bring good news to the deli world.
And what's more of a mitzvah than birth. The new Uptown Deli is open for business in Bethesda, MD. So capital area residents can now head over there for all the fixings (sandwiches, black and whites, Dr. Brown's, knishes).
Howard Wasserman waits for all your dollars with open arms.
7905 Norfolk Ave
Bethesda, MD 20814
(301) 961-5787