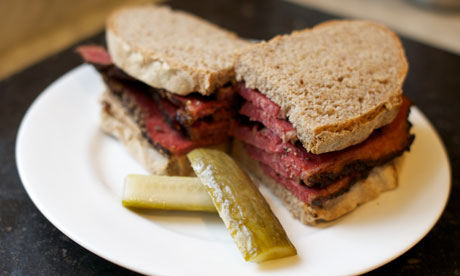 I've been meaning to post about this for a few weeks, but have been traveling a lot, and really don't have that good of an excuse why I haven't. They're actually pretty exciting. Despite the fact that I don't have a UK publisher, Save the Deli has gotten good press over in Britain, with coverage last year by the Independent and some Brit food bloggers. Considering there's an entire chapter devoted to London's salt beef, this hasn't come as a total surprise, but I'm always astounded when it continues.
A few weeks back, in New York, I was interviewed by a BBC correspondent at Adelman's Kosher Delicatessen in Brooklyn. She recently sent me the story, and I'm hoping the MP3 widget below works. This went out on Newshour, which is the Beeb's international radio news show. CLICK HERE TO DOWNLOAD THE MP3 OF THE INTERVIEW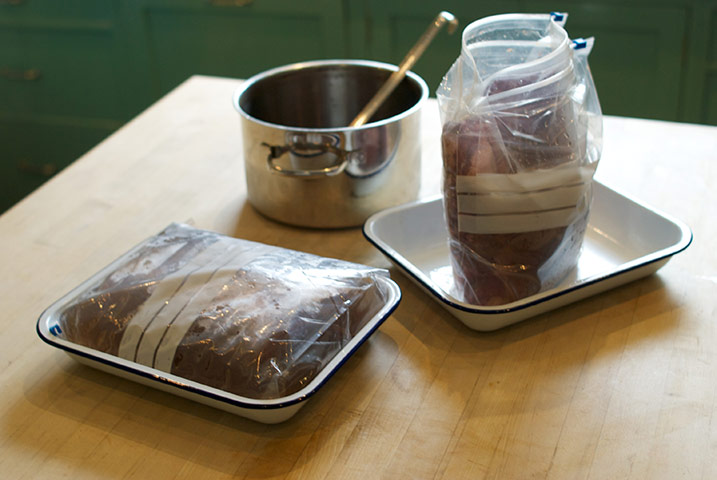 The other coverage is the article many of you have been waiting for. Guardian writer Tim Hayward uses Save the Deli as inspiration to pursue recipes for proper rye bread, pastrami, and yes British deli lovers, salt beef:
I write as nothing more than a greedy gentile but it seems to me that salt beef, though originating in Ashkenazi cuisine and firmly rooted in urban Jewish tradition is going to be a tremendous loss to all of us. It's part of a wider picture of city eating. (Until I read Sax's book I hadn't realised that the majority of New York's "kosher" delis were actually nothing of the sort, with the word standing in as a sort of awkward euphemism for "Jewish". The great Reuben sandwich, combining meat and dairy is about as forbidden as you can get under kosher laws yet it was the mainstay of many delis. Anyone wishing to truly keep kosher would need to seek out the "Glatt Kosher" delis of which, at their peak there were only ever a handful). In spite of its roots, salt beef has become latterly, it seems to me, as much "urban" as "Jewish" and every bit as much about London as New York.
Click through to the article and you'll find detailed recipes with beautiful photographs (including the two above), on how to create deli from scratch.